Urinetown (The Musical)
Book and lyrics by Greg Kotis. Music and lyrics by Mark Hollman. Mosman Musical Society. Zenith Theatre, Chatswood. September 15 – 23, 2017
Think anarchic, post-apocalyptic, dystopian satire … then think musical …
Urinetown The Musical takes audiences to a near-future world where water is scarce, and everyone has to pay a corrupt corporate monopoly to pee.
Kenney Ogilvie, rapidly proving himself one of the strongest conceptual directors on the Sydney Community Theatre scene, finds every ounce of fun in the show, with its mix of dark comedy and overt theatricality. He packs many moments with more comedy and nuance than any of the several previous community theatre productions of Urinetown I've seen. All of this inventiveness springing, seemingly organically, from the script and score. The choreography by Lisa Suleiman is in synch with Ogilvie's concept, and constantly in on the gags.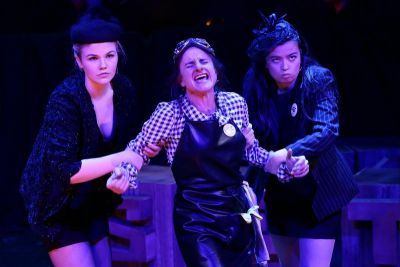 Ogilvie's direction also sees each member of this ensemble cast creating and maintaining strong individual characterizations – some of them mastering and regularly switching between two contrasting personas. Delightful cameos are shared around freely. That makes the company, collectively, star of the show, with each large or full cast scene simply brimming with diversity, interest and energy, yet coalescing as a coherent, entertainingwhole.
Splendid principal performances, too, are integral. Daniel O'Connell is a charismatic Bobby Strong, the show's fervent, unlikely hero. Rebecca Carter'sHope Caldwell, daughter of the greedy water mogul and Bobby's love interest, lands both the starry-eyed tongue in cheek romantic and feisty sides of the character deliciously. Both sing their roles impressively. Kyle Masson lands both the benign surface and the underlying menace of Officer Lockstock (who also acts as narrator), frequently interacting with Emma Caldwell's perky, knowing Little Sally, to nail their running jokes about musicals. Duncan McDonald as corporate baddy Caldwell B. Cladwell, and his cronies, play their melodrama / pantomime villainy with relish.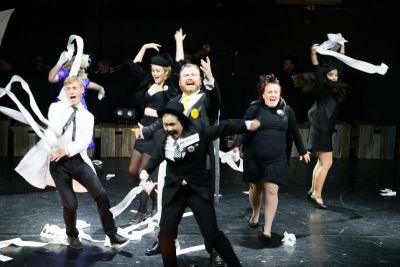 Urinetown is a show that's never afraid to have a laugh at itself or its genre, and Mosman's production really milks that humour to the utmost – there's nods to shows including Les Mis, Into the Woods and musicals in general. Not even Brecht, whether you know him or not, or any esteemed theatrical convention, is safe from a good 'piss take'. There are no 'sacred cows'.
With director Kenney Ogilvie also designing, there's a strong unity to the production. Costuming nails the haves and have-nots; the baddies and the goodies. The simple, effective setting, dominated by acres of stained canvas and rough timber boxes, ensures that scene changes are virtually seamless, ensuring the show really pumps along. Lighting Designer Rodney Bertram joins in the fun, with the illumination, and momentarily deliberate lack thereof, also in on its fair share of the jokes.
Musical Director David Lang leads a tight, effective band at the rear of the stage, well-balanced with the vocals by Loud & Clear.
Get along to Urinetown. You'll never have this much musical fun in a sewer.
Neil Litchfield
Photography: Danny Kildare