Venus In Fur
By David Ives. Company O. Directed by Andrew O'Connell with Krispin Maesalu (Assistant Director and Musical Director). Fridays Studio, North Perth, WA. Nov 16-18, 2023
Venus in Fur has been performed in Perth in the past, in a quite stunning production, but this production, in its very intimate setting at Fridays Studio, brings a new perspective in perhaps Company O's finest production to date.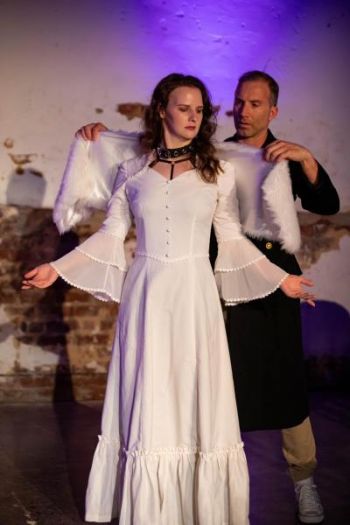 A highly charged two-hander, Venus in Fur tells of playwright and director Thomas Novachek, who is disappointed after a day of dreadful auditions for his play - an adaptation of the sadomasochistic German novel, Venus in Furs. As he prepares to leave an actress arrives. While she shares a name with the leading character of the play, Vanda, she is four hours late, unprepared, unsophisticated and seemingly completely wrong for the role, but when she begins to read for the part, with Thomas playing opposite her, she shows an amazing affinity for the role, and we move beyond the audition into something that is erotic and intense and no longer "acting".
Director Andrew O'Connell plays Thomas, which is an interesting element, as like his counterpart in the play - the lines between actor and director become blurred. His is a well-structured, dedicated and at times deliberately understated performance, that seems to allow his scene partner much of the control. Very well acted and convincing - especially impressive in a space where the audience could easily touch the performers if they wished.
Codey Finley is outstanding as Vanda, an enigma of a person whose story is constantly shifting, and you are never sure what is truth or lie, acting or 'reality'. Captivating and strong, we can easily see why Thomas is drawn to her, seemingly against his will, and all good sense. A brave, honest, and beautifully drawn performance.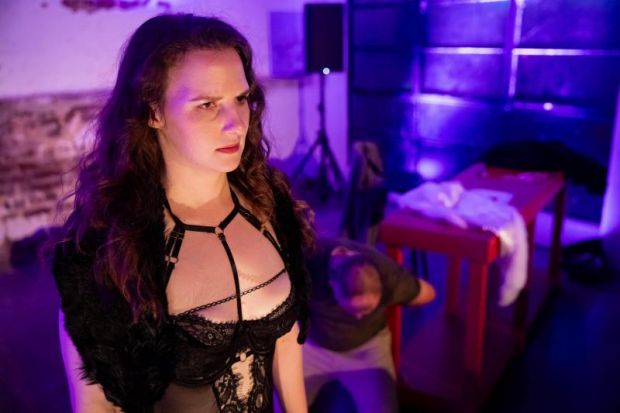 Justin Neil Mosel-Crossley has managed to create an effective and varied lighting design on a small, temporary rig, and handled sound design. Musical Director Krispin gives the show significant and emotionally strong underscoring which was impeccably timed and added greatly to the production values. Movement Directors and Dramaturgs Teresa Izzard and Samuel Addison have made the most of this small space - and intimacy appears to have been handled well.
A very strong duet of a performance that had its small, but capacity audience completely involved.
Kimberley Shaw