Verdi
Opera Queensland. Queensland Symphony Orchestra. Conductor: Johannes Fritzsch. Soloists: Eva Kong, Sofia Troncoso, Rebecca Cassidy, Hayley Sugars, Rosario La Spina, Virgilio Marino, Jose Carbo, Samuel Piper and Timothy Newton. Compere: Jason Barry-Smith. Opera Queensland Chorus: Chorus Master: Narelle French. Director: Patrick Nolan. Concert Hall, QPAC. 20 November 2021.
Verdi was a showcase for the stars of Opera Queensland who rose to the occasion delivering some beautiful and haunting performances singing his 'Greatest Hits'. Director Patrick Nolan and conductor Johannes Fritzsch assembled a collection of duets, trios, quartets and ensemble pieces from La Traviata, Macbeth, Il Trovatore, Rigoletto, Don Carlo, Nabucco, La Forza del Destino, Otello, Falstaff and Aida, that offered a complete overview of the composer's work.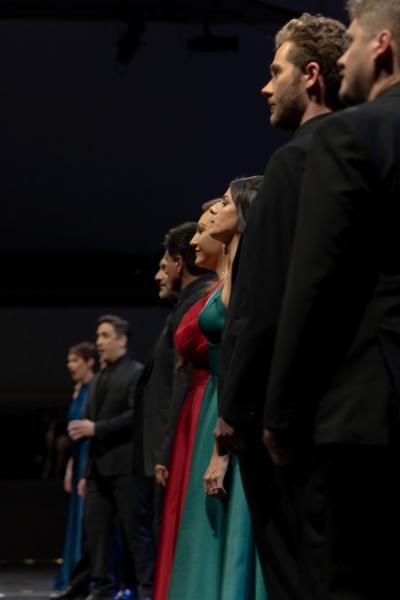 Jason Barry-Smith was an authoritative narrator who supplied a colorful background to the composer's career. Beginning with the orchestra playing the sublime "Prelude to La Traviata", following with the Brindisi (Drinking Song) "Libiamo ne' lieti calici" sung by the chorus with Eva Kong as a stunning Violetta, and Virgilio Marino likewise as a dominant Alfredo, and closing with Falstaff's ten-voice fugue with Samuel Piper singing the title character, it was a glorious afternoon of beloved opera arias.
In between we had stirring versions by the almost fifty-voiced chorus of Il Trovatore's "The Anvil Chorus Vedi, le fosche…Chi del gitano", and Nabucco's "Va pensiero (Chorus of the Hebrew Slaves)", and Aida's Triumphal March, chorus and Ballet music.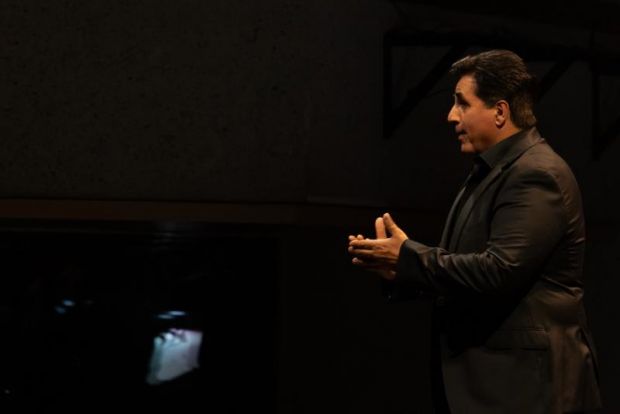 Rosario La Spina's mellifluous tenor was showcased on I Lombardi's "La mia letizia infondere", and Aida's Celeste Aida "Se quell guerrier lo fossi", with Jose Carbo joining him for the Don Carlo duet "Dio, che nell'alma infondere". Carbo also sang a moving Rodrigo's Death Aria "O Carlo, ascolta" from the same opera.
Desdemona's "Ave Maria" from Otello was a brilliant and emotional solo for Eva Kong, Rebecca Cassidy as Leonora emoted with passione "Pace, Pace" (Peace O mighty father, give me peace) from La forza del destino, whilst Rigoletto produced the celebrated Act 3 quartet "Un di, se ben rammentomi…Bella figlia dell'amore" (Beautiful child of love) with Eva Kong (Gilda), Hayley Sugars (Maddalena), Virgilio Marino (Duca) and Jose Carbo (Rigoletto).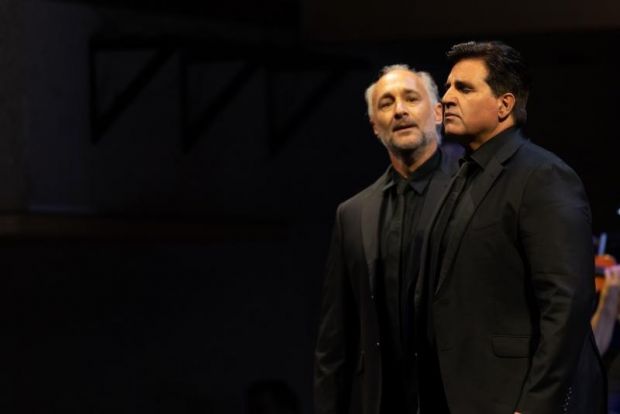 Above the stage hung a giant screen upon which images of the soloists and orchestra were flashed. Superbly directed, they created an intimacy that was immediate and palpable. A fervent concert, thrillingly sung, and a fine finale to Opera Queensland's celebration of 40 years of opera.
Peter Pinne
Images (from top): Sofia Troncoso; Eva Kong, Hayley Sugars, Virgilio Marino, Samuel Piper, José Carbó , Rosario La Spina, Rebecca Cassidy, Sofia Troncoso, Timothy Newton and Nick Kirkup; Rosario La Spina; José Carbó and Rosario La Spina; and Eva Kong.