Vere (Faith)
By John Doyle. State Theatre Company SA and Sydney Theatre Company. Dunstan Playhouse, Adelaide Festival Centre, October 12 – November 2, 2013 and Sydney Opera House, November 6 -December 7.
The droll humour of broadcaster John Doyle, his sharp wit, erudition and compassion, are all there in this his second play, a black comedy which, indeed, occasionally struggles under so many guises.
At the heart is Paul Blackwell, so engaging and unmannered as the 62-year-old physicist Vere, who is told at the start that within a month dementia will crumble his best asset. Doyle's tender empathy to Vere's impending voyage was so obviously informed by watching his own Dad go through the same rapid mental decline.
Blackwell's Vere (the name means Faith) ignores the diagnosis and at the office Christmas party leads his fellow academics, including Geoff Morrell's outrageously lewd Vice Chancellor, in an erudite display of knowledge, wit and cross-disciplinary banter. Some of this is highly amusing, some bafflingly unfocused, but at best when Vere's intellectual passion shines as he enthrals colleagues with his quest for the God Particle or Higgs boson (which only this year was identified as a key indicator of how the universe works). Vere hopes to be at a Switzerland conference to help discover this … in a month's time.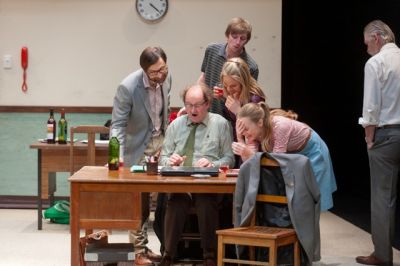 In the second act, Switzerland is forgotten, and Vere is incontinent and befuddled as he (and we) watch the same excellent cast shift from being colleagues to new roles. Vere's son and now carer (Yalin Ozucelik), daughter-in-law (Ksenja Logos) and grandson (Matthew Gregan) prepare nervously for the arrival of the boy's fiancée (Matilda Bailey) and her parents (Morrell as a Reverend and Rebecca Massey as his equally myopic wife).
The stage is set for a disastrously funny dinner party battle between the Vere family's humanistic secularism and the defiantly uncurious visitors so certain in their fundamentalist faith. Vere, they intone, should be less lost in the wonder of the stars and more mindful of the devil lurking.
Doyle and director Sarah Goodes deliver beguiling and witty theatre but such easy clichés of hideous church people ultimately rob the play of intellectual rigour – and Vere's own complex thinking on faith. But watching it all unfold, and with such fine actors, brings tears and considerable joy.
Martin Portus
Robert Dunstan previously reviewed the Adelaide season of Vere.
State Theatre Company Of South Australia and Sydney Theatre Company have joined forces to mount the premiere of Vere (Faith), a play from the pen of broadcaster John Doyle (aka Rampagin' Roy Slaven) who has enjoyed previous success in television, radio and, more recently, theatre.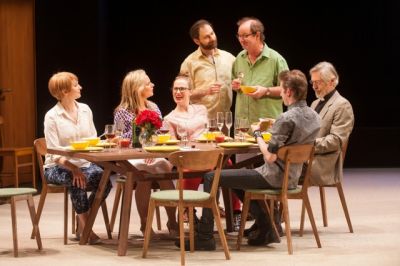 It tells the tale of Vere, an academic who discovers he has early dementia but that it will escalate very quickly.
Despite the dark subject matter, however, Vere (Faith) is a really enjoyable, remarkably engaging work that begins with the 60-something Vere (wonderfully played by Paul Blackwell) addressing an auditorium (the theatre audience) at the end of the academic year about his past and future plans in the world of Physics.
These plans – Vere wants to visit Switzerland and work with CERN on The Higgs Particle – are thrown into turmoil when he soon learns, via his doctor (Ksenja Logos) just minutes prior to the end of year staff knees-up, that it could only be a matter of weeks before he will be in need of full-time care.
The second half takes place at Vere's son's house during a dinner party with the whole ensemble from the first act taking on new roles as the physicist's atheist family and his grandson's girlfriend and parents who just happen to be fundamentalist Christians.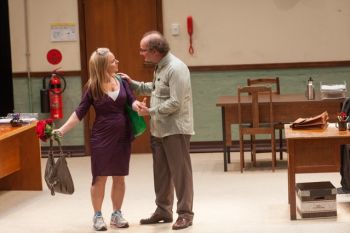 What ensues is a mix of comedy and pathos as Vere, now deep in the throes of dementia, mistakes family members for staff members – a cleverly-written effect from Doyle as they are being played by the same set of actors as in the first act and also have similar names – and arguments regarding science and religion come to the fore.
There is so much to commend this wonderful, contemporary play – Doyle's writing is taut, clever and very convincing while also intelligently broaching a great number of issues using some dark humour, the acting is superb throughout, the lighting (by Nigel Levings) is suitably moody when required and Pip Runciman's set design is splendid. Sarah Goodes' direction is unnoticeable so she also gets an outstanding pass mark, while composer Steve Francis' sound design is very, very subtle.
On the strength of this mid-week performance – illness had prevented me from attending the well-received opening night – Vere (Faith) is destined to become a well-deserved classic of Australian theatre.
Do not miss it if you get an opportunity to see it.
Robert Dunstan
Photographer: Matt Nettheim