A Very, Very Good Variety Show
Fringe World. Directed by Jess Herbert. The Edith Spiegeltent, Yagan Square, Perth WA. Feb 11-16, 2020
A Very, Very Good Variety Show is exactly what it claims to be, and is, indeed, a very, very good variety show. Proving very popular and rapturously received by a very full, very excited audience, this Perth Cabaret Collective show is a delight.
Seeing Perth Cabaret Collective is like taking a step back in time, with this good sized and talented band, beautifully dressed, filling the stage, we could easily have stepped back into the 1960s or before (modern keys and mikes aside). Under the leadership of the talented (and funny) Jess Herbert, who also plays baritone saxophone, we experience the talents of Erin Royer on soprano and alto sax, Gemma Farrell (I hope someone bought her a diet coke) on tenor sax, Steve Bickley on trombone and Matt Smith and Ricki Mallet on trumpet. Kate Pass plays Bass, Tim Voutas is on keys, with 17-year-old Cam Fermoyle debuting on drums. Sounding amazing Perth Cabaret Collective is all class…and then they deliberately turn it that on its head.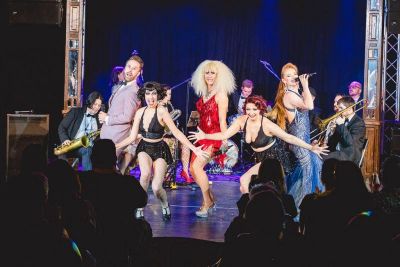 Adding ribald jokes and silliness into the mix, Cougar Morrison, one of Perth's favourite drag queens adds sparkle, humour and a great voice, and leads a team of performers who also shine. Gorgeous natural red-head Mia Matthiesen sings beautifully, as does the charming Mark Turner. Two of Perth's best-known Burlesque Performers, Veruca Sour and Lucy Lovegun, bring sexiness and humour to punctuate the show.
Highly personable, friendly and 'real' Perth Cabaret Collective has a wonderful knack of welcoming back their growing regular audience, while having great appeal to those seeing their show for the first time. A fun, nicely polished and despite what they will tell you, a real "class act".
Kimberley Shaw
Photographer: Josie Nolan