Viagara Falls and the 70 Year Old Virgin
By Janet Findlay & Alan Youngson. Sunnybank Theatre Group, Sunnybank, Qld. Director: Alan Youngson. 14-29 February 2020
Farce is one of the staples of community theatre and this new title, which premiered last year at Ipswich, follows the rules of the genre; a set with plenty of doors to slam, a convoluted story involving sex, cross-dressing, and characters with funny accents. Viagara Falls ticks all the boxes. Aimed at the seniors market, there are enough giggles and laughs to satisfy undemanding audiences who just want a good night out.
Set in the present day in the Serenity Retirement Village, Eric (Laurie Webb), a 70-year-old former entomology expert and virgin is due to wed three-time divorcee and Gran, Fran (Annette Page). In order that he may perform up to expectations on the wedding night, Eric has got the doctor to prescribe him some unisex Viagara pills. Hiding them in a sugar-sweetener container, the pills end up in the hands of Ian (Ian Ogle) who unknowingly puts them in his tea and ends up giving his wife, Kitty (Gail Payne) a second-honeymoon.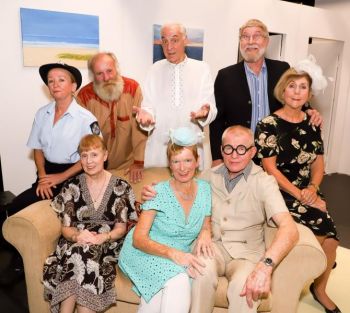 Other characters also unwittingly take them in their tea including a mad Scot, Jock (Alan Youngson), who goes on a spree bringing joy to multiple single ladies in the village. A gay cop (Katie McKeen), an Indian doctor (Richards Edwards), and an interfering busy-body (Lyn Kesby), who believes a group of men walking around in Kaftans is an Arab plot, make up the rest of the cast. It's all silly and larger-than-life but that's the recipe of farce.
Best performances came from Gail Payne as Kitty, the harassed wife who'd like a little respite from her husband's bedroom antics, and Richard Edwards as Doctor Sadhu, whose spot-on accent reminded me of Peter Sellars. Co-author Alan Youngson did a good job as the Scot, as did Katie McKeen as the cop.
The play won't win any Helpmann Awards, but it does entertain its target audience.
Peter Pinne
Note: Reviewed at a preview performance on 12 February 2020.