A View From The Bridge
By Arthur Miller. Grads. Directed by Barry Park. Dolphin Theatre, University of Western Australia. 17-20 October, 2018
You will need to move quickly to catch Grads' impressive production of A View From the Bridge, as it runs for just five performances, ending this Saturday. I imagine that it will be difficult to get a ticket at the end of the run, as word will quickly spread about the high quality of this classic drama.
I was lucky enough to catch the final dress rehearsal, but apart from the empty auditorium and a lack of resounding applause at the end (my companion and I tried our best), you would not know that this was not a final performance. Polished, smooth and professional, this show was more than ready for an audience.
You might expect this 1955 drama to be rooted in realism, with a highly detailed set. Director Barry Park has flipped this idea. Performed on a stark set, well constructed by Gary Weltherilt, we are given little sense of place. It is played almost in the round. with seating available on the stage if you would like to be very close to the action. The show is also performed without an interval. These changes have the effect of focusing us much more on the acting, a great decision given this highly talented cast.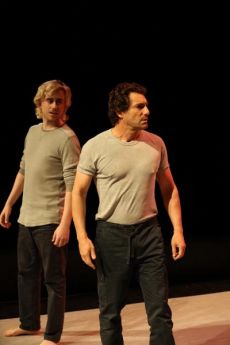 Dean McAskil soars as Eddie, a family man who struggles with the concept that his only child, a niece, may be about to fly the nest. A strong, convincing and highly emotive performance, we see his conflict and sympathise with him against our will as he anchors this show beautifully. Sally Barendse is excellent as his wife Beatrice, attempting to be a voice of reason, in a well nuanced portrayal.
Grace Edwards plays niece Catherine, in perhaps her best performance to date, a lovely characterisation of a young woman maturing and finding her inner strength. She is very nicely matched with Thomas Dimmick, in a stirring characterisation of illegal immigrant, and young lover Rudolpho.
David Cotgreave narrates this show, observes the action and plays lawyer Alfieri with great feeling and precision. Judd Milner is very solid as Rudolpho's brother Marco, who gives moving insights of his life back in Italy. Good support comes from Emerson Brophy as Louis, and Neale Paterson and Matti Helm do well in their brief appearance as Immigration Officers.
Sound, by Justin Camilleri and Daniel Toomath, provides punctuation and pushes emotions, while Mark Nicholson's lighting design is bold and thought provoking.
Don't miss this production that is intelligently directed, expertly acted and very, very moving. A very different take on a classic play.
Kimberley Shaw