Vincent River
By Philip Ridley. The Curators Theatre, Christ Church, Milton, Qld. Director: Michael Beh. 13-31 October 2020
Brutally horrific, Philip Ridley's Vincent River has been given a taut and harrowing production by Curators Theatre, with solid direction by Michael Beh. It's the Brisbane premiere of this bleak play, which has had innumerable productions since its world premiere at the Hampstead Theatre, London, 2000. It's not time specific, but judging by the music that permeates the production, it feels like we're back in the eighties.
Set in a one-bedroom apartment in Dagenham, Eastender mother Anita is coming to terms with the loss of her 35-year old homosexual son in a vicious gay bashing which resulted in his murder. Davey, a 17-year old boy who has been shadowing Anita for the past few weeks, claims he found Vincent's corpse, and finally finds the courage to talk to her. He follows her home from the supermarket and she invites him in. Both have stories to tell. Anita believes Davey knows more than he is letting on (and he does), and Anita, in the course of this two-hander, which runs 90-minutes, plays her part in filling in the gaps in the story.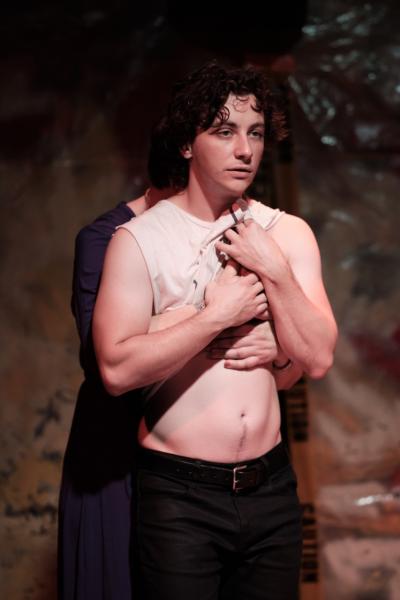 Davey, Vincent's lover, was at the scene of the murder and witnessed the violent bashing by a gang of youths. Too traumatized at the time to intervene, he's now living with the guilt, as is Anita, a devoted mother who did not acknowledge her son's sexual orientation.
This familiar scenario is played out on a bare-bones set of lounge chair and kitchen sink, on a rostrum at the centre of the hall.
Amanda McErlean was a blousy, believable Anita. A party-girl who got knocked up in her youth, she painfully projected the loss of the love of her life and only son with stark reality. Patrick Shearer was a perfect Davey, skinny and pale-skinned with sullen bursts of anger. That she sees him as a surrogate son, and he sees her as a mother-figure, are a given.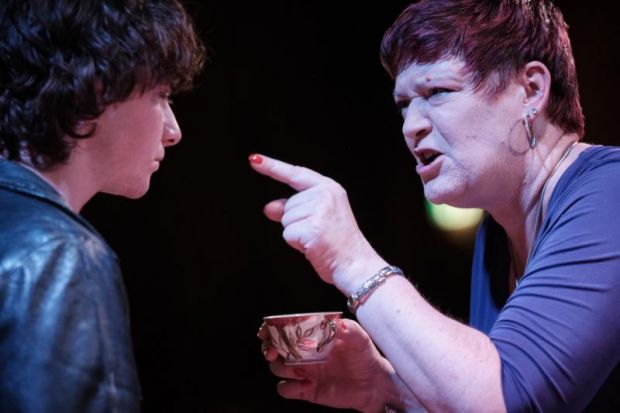 Ridley's play, which in part draws upon his BBC radio play October Scars the Skin, and the violence of his Mercury Fur, is a bit dated but the message is still very relevant. In a country where South Australia still has the so-called 'gay panic' defense for murder, the play is a timely reminder that 'gay bashing' never goes away. Bravo to The Curators for this incisive and engrossing production.
Peter Pinne
Photographer: Naz Mulla