The Violent Outburst That Drew Me To You
By Finegan Kruckemeyer. Siren Theatre Co and Griffin Independent in association with InPlay Arts. SBW Stables Theatre, Sydney. Director: Kate Gaul. 18 June – 12 July 2014
The splendidly named Tasmanian playwright Finegan Kruckemeyer writes primarily and prolifically for children and teenagers. This teen-angst drama seems out of place at the Stables in Kings Cross where an audience of teenagers is unlikely.
Written in creative collaboration with Kate Gaul, Artistic Director of Sydney's Siren Theatre Co, The Violent Outburst That Drew Me To You premiered last November at the Riverside Theatre, Parramatta, and is now part of the current Griffin Independent season.
Gaul brings theatrical pace and panache to Kruckemeyer's sketch-like account of 16-year-old Connor's angry frustrations with his family, his school, his unhappy life.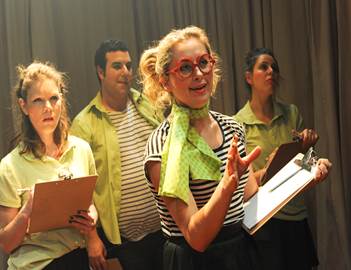 Michael Cutrupi plays Connor with enormously energetic attack, though it is difficult to warm to his constantly unreasonable behaviour: everything and everybody annoys him so.
Four appealing and versatile actors (Anthony Weir, Emily Ayoub, Renee Heys and Natalia Ladyko) play all the other characters, cabaret style. Under busy direction, the cast dance, too, and come together for a funny, full-on musical number at the mid point of the 70-minute running time.
Unable to cope, Connor's parents dump him in the woods (er, the bush) and, fable-like, the lost boy meets his match with no-nonsense Lotte, whose role is oddly shared by all three actresses.
There's a clever setting by Jasmine Christie and excellent sound design by Daryl Wallis, who also wrote the music. It's a vibrant piece of theatre, no doubt about that, but does seem to be playing to the wrong audience.
Frank Hatherley
Photos by Heidrun Lohr