Vivaldi's Venice
Australian Brandenburg Orchestra. Artistic Director: Paul Dyer. Harp Soloist: Xavier de Maistre. ABO, Concert Hall, QPAC. 3 March 2020
At the completion of last night's program, Xavier de Maistre quipped at how incongruous it was playing "Winter" in Summer as a reference to Brisbane's currently sticky heat. But the piece, which comes from Vivaldi's "The Four Seasons", was one of the highlights of Vivaldi's Venice, a concert of baroque music by Venetian composers with the Australian Brandenburg Orchestra and guest artist French harp poster-boy Xavier de Maistre. It's his second appearance with the group (the first was when he toured with them in 2018) and the program was built upon a 2012 recording he made with "L'Arte del Mondo" under Werner Ehrhardt's direction called Notte Veneziana. It mixed well-known concertos by Venetian composers in new arrangements for the harp, with original compositions for solo harp. It was a winning combination.
"Winter" was just gorgeous with its ethereal mood, and the harp producing glass-like sounds of icicles and snowflakes, his playing was nuanced and marked with finesse. Giovanni Pescetti's "Sonata in C minor", originally scored for harpsichord, was one of de Mistre's own transcriptions and perhaps his finest performance of the concert. With his fingers barely caressing the strings, his breathtaking precision was astonishing.
The solo "La Mandoline", by 19th-century English harp virtuoso Elias Parish Alvars (whose writing for the double-action pedal-harp was revolutionary), was exquisitely intimate, whilst the popular and highly melodic film-score favourite, Tomaso Albinoni's "Adagio in G Minor" (reconstructed by Remo Giazotto), was remarkable for its astonishing warmth. Paul Dyer was a dynamic presence at the harpsichord leading the orchestra, but swapped it for organ in this work's lugubrious opening set against vibrant pizzicato strings.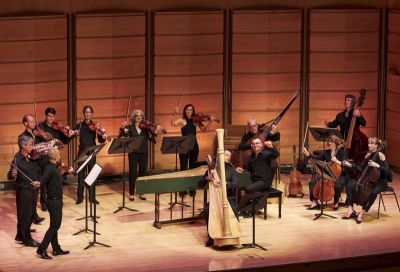 The concert opened with the orchestra in a particularly luminous "Sinfonia in C Major" from Vivaldi's opera "L'Olimpiade", which was a fine and cheerful introduction to de Maistre's first appearance with Vivaldi's "Concerto in D major". One couldn't help but be transfixed by his radiant and masterful "Adagio."
First act closed with Alessandro Marcello's "Concerto in D minor", originally an oboe piece but one that was beautifully enhanced by the harp.
The program also featured the first Australian performance of Giovanni Gregori's (one of Vivaldi's contemporaries) "Concerto Grosso in D major", which offered splendid opportunities to showcase de Miastre's talent.
He encored, appropriately, with Felix Godefroid's marvelous variations on "Carnaval de Venise", again displaying his incredible virtuosity.
With his movie-star looks and irrepressible smile, he won the hearts of the Brisbane audience last night and his standing-ovation reception suggested he is welcome to return anytime. Let's hope it's soon.
Peter Pinne
Photographer: Keith Saunders