Voices and Vines
Golding Wines Lobethal. Saturday September 1, 2018
Voices and Vines was a beautiful way to experience the beauty of both well-known and not so well known vocal pieces. Set in the lovely sandstone barn at Golding Winery, this was another example of how fortunate South Australia is with its wealth of world-class singers and the ever-increasing number of interesting, beautiful and acoustically appropriate venues in which they can be showcased.
Voices and Vines featured soprano Karina Bligh, mezzo soprano Charlotte Kelso and guest artist, bass Lachlan Scott, who were accompanied perfectly by Mark Sandon.
Bligh is developing an impressive pedigree of roles in operas such as Elaine in George Palmer's Cloudstreet. Her high notes were assured and reached with ease and confidence and one of the favourites 'O mio babino caro'was a delight to listen to.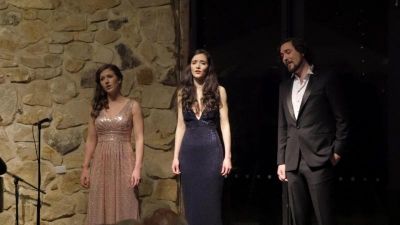 Kelso has a beautiful timbre to her voice in the lower registers and was also just as confident in the higher ones. She has an expressive physicality when singing. I particularly enjoyed 'La Diva de L'Empire'and Britten's version of the Scottish folk song 'O Waly Waly'.
Scott is a rising performer who is now being given larger roles in State Opera productions such as the recent Mastersingers. His bass voice played beautifully against Bligh's in 'La ci clarem' and the final trio 'Soave sia il vento'from Cosi fan tute was the perfect dessert to a thoroughly enjoyable evening of voices, wine and great food.
My advice is that if you want to have a different evening out, keep your eyes open for other events showcasing our wonderful young singers in our excellent wineries in the beautiful Adelaide Hills.
Sally Putnam