Voices of Joan
Adelaide Fringe. The Breakout at the Mill, Adelaide. 6-8 March 2020
Arriving to the sounds resulting from someone twirling the radio dial, we're bombarded with soundbites from politicians, a footy commentator and protestors current and not so current. Using the radio as a time machine, to capture the words already spoken and still vibrating the air somewhere, theatre-maker Janie Gibson channels the spirit of Joan of Arc in this breathtaking performance that addresses us, involves us – and makes us complicit in the outcomes.
Gibson strips away her feminine form to exchange clothes from two men in the audience, to become undefined by her sex – to embody the misogyny of the fifteenth century Catholic judicial system, here with a rich, throaty Australian accent, and as Joan herself, defending her own dogma against an English-imposed monarchy in France. Sovereignty wasn't ceded there, either.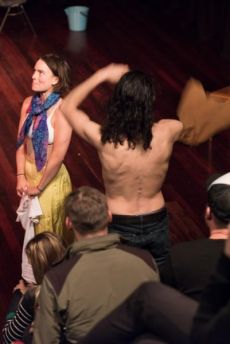 She delivers passionately, using music and sound both as a wall and to underscore her words. She plays guitar, shouts to us through a megaphone and is commanding as much in her presence as her words. And those words don't just come from Joan's trial, through Gibson – they're from that radio, reminding us of the same things happening today: domestic violence, abortion laws and the climate emergency. We hear too many voices preaching division and going to war.
But we're not just an audience, we're part of this trial, this ritual – which is hammered into us when we're the ones building the bonfire and placing candles in the pyre; it is up to us whether it's to burn or to remember.
Gibson isn't just a performer in this – she arrived at the Fringe from Queensland after protesting the Adani mine – and here she delivers a powerful history lesson that still needs to be learned, where the questioner may be silenced, but the questions remain.
Mark Wickett
Photographer: Natasha Blankfield