Voices of St Petersburg
More Than Opera. Conductor: Alan Cook. Melbourne Town Hall – March 10, 2020 & Sydney Town Hall – March 14, 2020
More Than Opera is a small opera company which specialises in introducing opera in innovative ways to people who might otherwise not get to experience the art form. Artistic director, Alan Cook, who, during his European career had extensive experience conducting operas in Russia, had invited four of Russia's finest for concerts in Melbourne and Sydney.
He brought together a 65 piece orchestra and presented an all-Russian program. It was excellent!
The concert commenced with an orchestral dance from Rimsky-Korsakov's Snow Maiden. The scratch orchestra was magnificent and Alan was in full control, with lots of light and shade and a lovely sweep to the music.
Then the singers took over and all were top class. Each had easy power, with full control of their voices and full range of vocal expression. Alan ensured that the orchestra did not overpower them, but also supported his charges.
Evgeny Akimov had sung at La Scala and the Met, and his ringing tenor soared over the orchestra. Yet he finished his aria from Tchaikovsky's Iolanta with a beautiful pianissimo top note.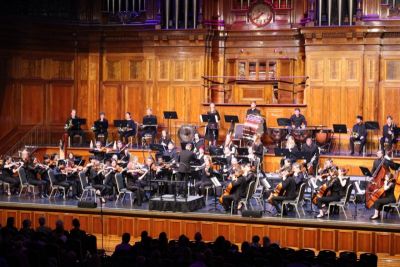 Husband and wife, bass Mikhail Kolelishvili and mezzo Anna Kiknadze, were very funny in a duet from Prokofiev's Betrothal in a Monastery, where Mikhail is waiting to meet his betrothed for the first time, expecting a young beauty, and found she is anything but. However, the large dowry he's been offered encourages him to go through with the marriage.
These were opera singers, and there was plenty of interaction between them on stage. It was no stand and deliver concert!
Mikhail's dark bass was effective in arias from Boris Godunov, Sadko andPrince Igor. Anna's rich voice was almost contralto, with a warm tone and strong chest register.
The program finished with arias from Tchaikovsky's Evgeniy Onegin, and soprano Gelena Gaskarova concluded the program with the extended Letter Scene. Another very accomplished singer.
There was a lot of music I hadn't encountered before, as well as some familiar arias. This was an excellent concert and one I hope Sydney opera fans will support. I'm sure many in Melbourne regret they didn't make the effort.
Graham Ford