War Horse
Based on the novel by Michael Morpurgo, adapted by Nick Stafford in association with Handspring Puppet Company. Sydney Lyric. Feb 15 – Mar 15, 2020.
After MIchael Morpurgo's original novel, Spielberg's film, two monster international tours and a theatre audience of eight million, there's still moving magic left in the tale of this old War Horse. Joey is the star, thrust from country Devon to the trench warfare horrors of 1914 France, but he's no more than a beautifully constructed puppet horse artfully manipulated by three humans.
Yet as "puppets", Joey and his stablemates embody all the slaughtered innocence not just of horses but also of young soldiers similarly manipulated to their doom. Not to mention the madness of antique cavalry charges against machine guns and barbed wire!
This originally National Theatre production masterfully coordinates Handspring Company's riveting puppetry with Rae Smith's evocative fast sketches (like William Kentridge's) galloping across a high slab screen, the music, ballads and thunderous sound from Adrian Sutton and Christopher Shutt, and explosive lighting by Paula Constable.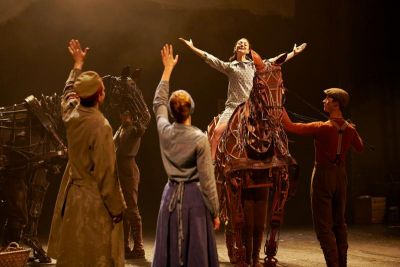 The 35 humans on stage play second fiddle to the mechanics, indeed the drama sometimes grinds slowly as we admire every tail flick and tender head turn of these stars - show ponies who also bring us all to tears. And 12 years on, some of the human drama, while polished, now goes on without us.
But from the struggle and charm of the village, Scott Miller enthuses as Joey's devoted young master, backed by Jo Castletown and Colin Narracott as his parents, and William Ilkley as the grieving neighbour, and Christopher Naylor shines later as the German escapee helping to save the horses.
Directed by Marianne Elliott and Tom Morris, War Horse is a tenderly affecting and exhilarating experience.
Martin Portus
Photographer: Brinkhoff Mögenburg