Warning: Explicit Material
By Geoffrey Atherden. Ensemble Theatre, Sydney. Director: Mark Kilmurry. 27 October – 10 December, 2011
Dramatist Geoffrey Atherden is a national treasure. His iconic 1984-1994 television comedy Mother and Son, all 42 episodes, remain as fresh and as touching as ever. His 18 episode exposure of the awfulness of local councils, Grass Roots, was exceptional comic TV drama in 2000-2003. Now his new 3-character theatre play is welcomed on the open-plan Ensemble stage by a packed subscription audience. Hooray for funny, literate Australian drama with something important on its mind.
Under Mark Kilmurry's sure direction, the actors are having a great time, too. William Zappa is spot-on as Barry, one of "Australia's lesser known artists", a 60's libertarian best known for his series of penis studies, My Big Cock. Now he's living alone in the bush, dishevelled, wild-eyed, trying desperately to rekindle his fading muse. He's visited by grim Alex (Michelle Doake), the daughter he deserted long ago. She wants to interview him for a television arts programme and soon starts asking uncomfortable questions about his life and his art.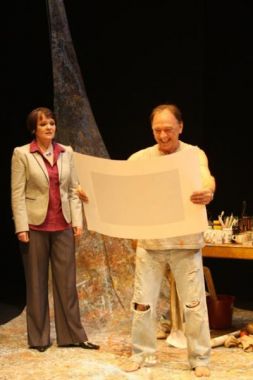 Also visiting – interestingly, on an earlier timeline — is pretty Daisy (Jessica Sullivan), an art student studying Australian artists who "no one's ever heard of". Barry's hopes are high: maybe this vivacious girl will pose for him, maybe sleep with him, help him recapture the spark of his artistic heyday.
There are many comic moments, a marvellous plot twist, and Atherdon uses this deftly conjured situation to make some sharp comments on the ethics of modern art and anti-social artists. He doesn't cut too deep; the conversation, though full of expletives, remains civil and the discussed exploits of such notorious creators as Roman Polanski, Donald Friend and Andres Serrano (creator of the notorious Piss Christ photograph) have been covered in many a weekend supplement. But the dialogue is lively and the happy audience are constantly engaged.
Frank Hatherley
Images: from top - William Zappa and Jessica Sullivan & Michelle Doake and William Zappa. Photographer: Natalie Boog.
To keep up with the latest news and reviews at Stage Whispers, click here to like us on Facebook, or follow us on Twitter.