Water Wars
By Elaine Acworth. La Boite Indie and Umber Productions. Roundhouse Theatre, 3-20 August, 2011.
Third play in the La Boite Indie season, this one is a bottler!
Based on reports of neighbourhood friction under Brisbane's level-5 water restrictions in the final drought years, Elaine Acworth wrote a play to portray the situation. Then came the 2011 floods, so she adapted her era to 2025 when, she figures, Brisbane may again be similarly water-restricted.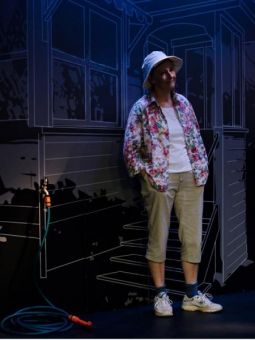 Given the sustainable environment theme, she urged Umber to employ similar theatre practice in the production. This angle has captivated the media. Well it might!
Three houses portrayed in mixed Brisbane are printed onto recyclable cardboard flats (Penelope Challen, designer). The challenge to Brisbane lighting wizard David Walters was to create (with Geoff Squires' realisation) a system that drew fewer than 10 amps. Using LED techniques, they claim it draws only 6 amps!
But what of the show? Amber-Jade Salas was brilliant as young boy Cal, emotionally affected by the neighbours' wrangles; and Kate Wilson (Foy)'s return as Mrs P to the stage (after 30 years of training aspiring actors) is a feather in Brisbane's cap – may the professional companies rush to take advantage of her talent. Kellie Jones (Galatea) and Jess Veurman-Betts (Berenice/Nan) created convincing suburban types. Unfortunately the doubling of Chris Baz as both Tom and Bob didn't quite work for me. I'd suggest using two physically different actors for these stereotypes in future productions.
To Shaun Charles for his slick direction; Guy Webster's sound score and Freddy Komp's ingenious AV effects for the flood; smooth stage management – Congratulations!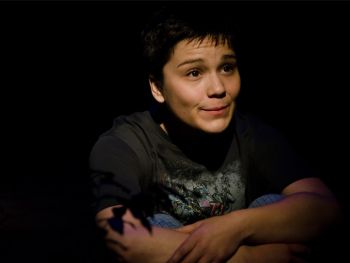 Experimental theatre at its best!
Jay McKee
Further Reading - Our feature with playwright Elaine Acworth, designer Penny Challen and lighting designer David Walters on this production.
Images: Kellie Jones, Kate Wilson and Amber-Jade Salas. Photographer: Al Caeiro.
To keep up with the latest news and reviews at Stage Whispers, click here to like us on Facebook, or follow us on Twitter.