We're Going on a Bear Hunt
Adapted for the stage by 
Anna Crawford & Mark Kilmurry, based on the book by Michael Rosen
& illustrated by Helen Oxenbury. Ensemble Theatre (NSW). April 10 – 22, 2012
Ensemble's contribution to this year's Easter school vacation is full of life and fun. Anna Crawford and Mark Kilmurry have adapted Michael Rosen's much loved story into a lively play which extends the tale, making it more personal and believable. They have added a reason for the bear hunt and some very recognisable characters. There is Rosie (Catherine McGaffin), the nasty, big sister who teases her timid little brother Harry (Felix Gentle) unmercifully about his lack of courage; their jokey, energetic father (Doulas Hansell, who doubles as the Bear;) and baby Bert and their dog max, who are puppets!
In an introductory 15 minutes of banter and song, they introduce themselves and the reason for the Bear Hunt – an opportunity for Harry to prove his courage.
Accompanying them on their journey is Shondelle Pratt who, as well as being the 'voices' of Bert and Max, provides a plethora of sound effects from an eclectic collection of noisy toys, balloons, a bucket of water, garbage tin lids and wooden spoons. Despite a very energetic and busy hour, Pratt did not miss a beat – and appeared to love every minute of her demanding roles. She was particularly endearing as she sang Max's song. Audience interest was directed to the animation of the dog by all three actors, but it was even more interesting to watch Pratt's lovely facial expressions as she sang.
As with many children's musicals, the songs were sometimes a little long. It fills the hour obviously, but kids get restless at too much repetition. That being said, Daryl Wallis (Composer and Musical Director), kept the pace of the music simple and bubbly – just right for the equally simple, but very effective choreography.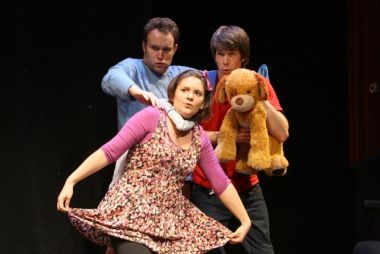 The use of puppetry for Bert and Max was innovative and really engaged the young audience – as well as introducing them to another aspect of theatre. As did the use of on-stage sound effects. The table of colourful toys and objects was a bright spot on the otherwise simple set (a prop box), and the kids loved the sound effects, especially the use of water in the bucket as the family crossed the river.
The costumes are also colourful and the pools of light that establish the 'barriers' that the hunters face are very effective. Simplicity is the key to the whole production – simplicity and humour. Even the adults were chuckling at some of the antics and the kids were enchanted!
The script and libretto will be a rich resource for other companies and Crawford, Kilmurry and the Ensemble should be very happy with their production.
Carol Wimmer.
Images: (from top) Catherine McGraffin, Felix Gentle and Douglas Hansell; Shondelle Pratt & Douglas Hansell, Catherine McGraffin and Felix Gentle. Photographer: Natalie Boog