We Too Us Too Me Too Too Too
Devised & performed by Kimberly Twiner, Ell Sachs, Lucy Kingsley & Nicholas O'Regan. Co-devised by Fabio Motta, Maria Silva & Giovanni Fusetti. Directorial Consultant Rinske Ginsberg. La Mama Courthouse, Carlton. 26 - 31 July 2022
This show is quite extraordinary. I can't recall seeing anything quite like it. It is bouffon – and the essence of bouffon is mockery. The famed acting and clowning teacher Jacques Lecoq, who brought the centuries old term bouffon back into usage said: '…the clown is alone, bouffon is part of a gang; while we make fun of the clown, the bouffon makes fun of us.' And the bouffon does that, like Lear's Fool, by telling or showing the truth.
Here, four performers arrive on the bare stage at first like a single melded organism. They will split apart – and come together again in precise coordination. They wear tight fitting hooded body suits – but with weird growths on their heads and added 'disabilities': one is a hunchback, another has enormous hips and breasts, a third is ringed with some weird protuberance around her waist, the last is skeletal. They're all deliberately grotesque outsiders – but they're all smiling. Glittering death's head smiles. Being grotesque gives them licence to mock, satirise, confront and attack – all with a smile, of course…
The show begins with a series of births – babies popping out from between legs - but rejected until we get a boy called 'Jimmy'. And the life of this spoiled little favoured prince provides the narrative spine for what follows. 'Jimmy' grows up – only he doesn't, of course. On the way, we see, for instance, what arouses male desire – and the spectacle of the performers each miming the male member erecting is hilarious.
This is 'physical theatre'; it's about bodies and movement. With very, very few explanatory words, this troupe uses crystal clear mime to represent and expose many contemporary phenomena, one representation sliding, smoothly melting into the next. The pace is unrelenting. They mount an unforgiving but cheeky and ultimately devastating attack on misogyny, discrimination, objectification of women, the patriarchy, sexual violence, and childish-but-toxic masculinity – for all of which there is, after all, plenty of irrefutable and obvious evidence.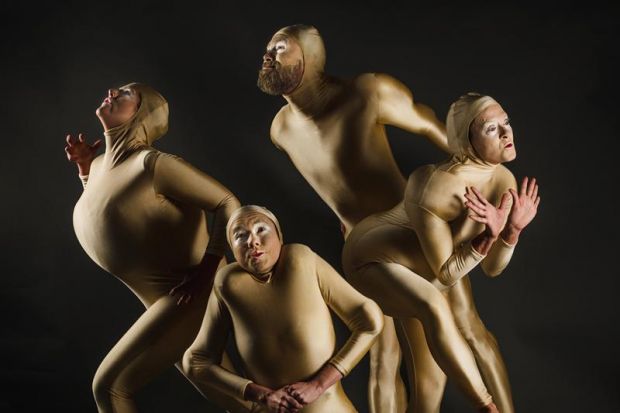 But this show by-passes that familiar plaint, 'But not all men are…' by being funny, pointed, and clever, and making us collaborators in their representations. Each exposé virtually ends with a wink as if to say, 'Come on, you know this's true, don't you?' And we do.
Yes, it's misandry, if you like; it's disturbing, but it's still gripping and absorbing, because these performers make their points with such finely honed mime and choreography, with such economy, with such intelligence, wit and accuracy, such invention. And the very title of the show suggests too an all-inclusive accusation – 'we too us too me too' – because we go along, we accept - and that's very bouffon, the theatre of mockery.
We Too Us Too has been in development literally for years: lockdowns have meant being cancelled over and over. But frustrating as that has been, the upside is that the show, with all that additional rehearsal, experimentation, rethinks, and the skilled input of Rinske Ginsberg, has been refined and enriched and disciplined into this sharp edged and very impressive presentation.
Michael Brindley
Photographers: (top) Darren Gill and (lower) Theresa Harrison.