THE WEDDING SINGER
Music: Matthew Sklar Lyrics: Chad Beguelin. Book: Chad Beguelin & Tim Herlihy. Smash Theatrical. Director: Joanna Pearson. Musical Direction: Shane Tooley. Choreography: Caron Koch. Schonell Theatre, Brisbane. 14-23 Feb 2013.
Brisbane community theatre just got a massive shot in the arm with the Brisbane premiere of The Wedding Singer. Produced by Smash Theatrical, the 'new-kids-on-the-block' in community theatre, the level of performance was like a high-powered adrenalin rush - full credit to Joanna Pearson's direction. The Wedding Singer was the ideal musical to launch a young company.
Based on the 1998 Adam Sandler movie of the same name, its characters are quirky, the book is funny, and the music has a poppy 80s feel. It was also an ideal show to launch on Valentine's Day with its plot of a guy dumped at the altar, who falls for a waitress who is engaged to a sleaze-bag, with true love triumphing in the end.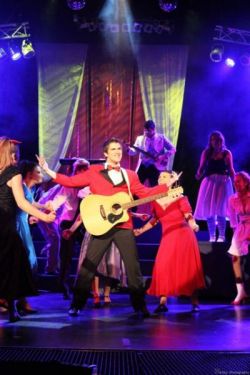 The 'wedding singer' Robbie Hart was played by Callan Warner, who invested the role with charm and likeability, the same qualities he brought to Albert Peterson in Harvest Rain's recent Bye Bye Birdie. He's a young performer who can sing, dance and act, and one who has buckets of charisma. He carried the show.
The two girls who played the women in his life, Laura Caitlin Jensen (Julia) and Hayley Maybury (Holly) also stood out. Both were strong actors with voices that could belt to the rafters.
Old-stager Jo Toia delivered an audience pleasing Grandma, Rosie, while the chorus worked hard dancing their butts off to some impressive moves by Caron Koch.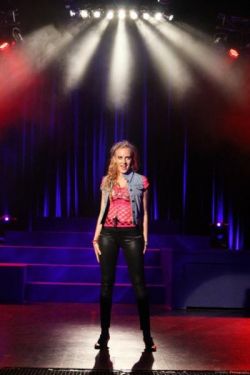 The simple set effectively established the locations, with great help coming from Geoff Squires whose lighting washed the stage with patterns and color throughout.
Only glitch was the problems with the actors' mics, most noticeable at the end, which completely killed the mood. Best performance of the night however was Shane Tooley's band. With three keyboards and four guitars plus drums, reeds and trumpet, Mathew Sklar and Chad Beguelin's score sounded as good to me as it did when I first heard it on Broadway.
A big round of applause to Joanna Pearson and Shane Tooley whose idea it was to create Smash Theatrical. If future productions exhibit as much professionalism as The Wedding Singer then Brisbane is in for a heady ride.
Peter Pinne