The Wedding Singer – the Musical
By Chad Beguelin and Tim Herlihy, Music by Matthew Sklar, Lyrics by Chad Beguelin, based on the New Line Cinema film written by Tim Herlihy. Her Majesty's Theatre, Adelaide, April 9 – 24, 2021, and touring
'Love is what I do,' croons Robbie Hart, the titular character of The Wedding Singer in the big opening number of this new stage production of the Tony Award nominated show, based on the Adam Sandler movie of the same name. And once your strip back the bold colours of the costumes and neon lights, this is the mantra of this simple story.
Robbie is New Jersey's number one wedding singer. That is until his own fiancée strands him at the altar. His broken heart is only saved by a kind waitress, engaged to a Wall Street trader.
Christian Charisiou takes on the title role, and he makes it his own, incorporating some of the movie's trademarks into his performance. He sings, acts and dances well – the standout moment is his dramatic rendition of 'Somebody Kill Me'. Teagan Wouters is the warm-hearted Julia, the waitress at the venue where Robbie Hart's band 'Simply Wed' plays its love songs. Wouters is suitably starry-eyed initially, but her fading affection for her boyfriend Glen (a villainous Stephen Mahy) is well-balanced with her growing love for Robbie.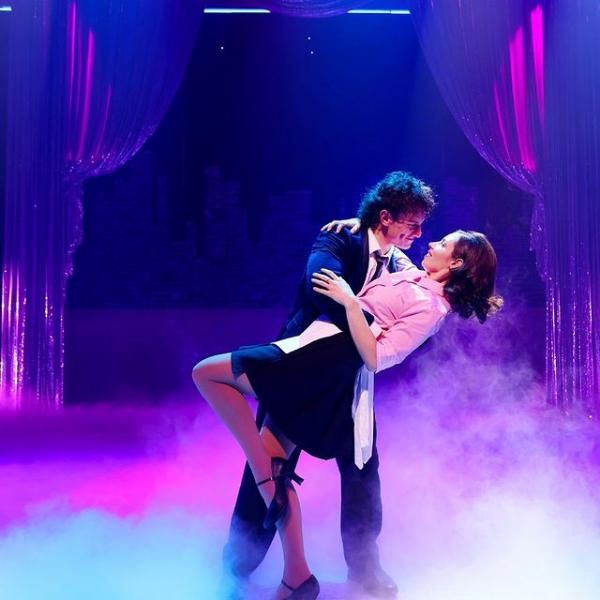 Julia's best friend and colleague is Holly, brilliantly played by Nadia Komazec, who is clearly having enormous fun with her amazing Cyndi Lauper and Madonna-inspired costumes (designed by Kim Bishop). She is New Jersey boisterous but Komazec captivates with nuanced subtlety in the quieter moments.
Kirby Burgess, as Robbie's ex, might only have two scenes, but she dominates both, particularly with her performance of 'Let Me Come Home'. Susan-ann Walker is Robbie's grandmother. She offers a wonderful performance and her cabaret experience is evident with her fabulous voice and perfectly timed dry humour.
Ed Deganos as Culture Club inspired George, together with an excellent Haydan Hawkins as wannabe metal rocker Sammy, make up the wedding band with Robbie, and their friendship is played with convincing honesty.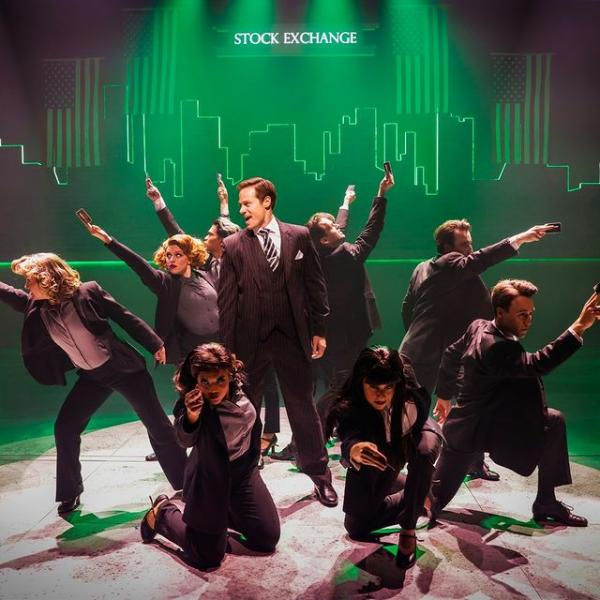 The off-stage live band, directed by Daniel Puckey, keeps the eighties spirit alive with its synthesizer and guitar combinations, and rocks through some good original songs, maintaining the eighties vibe in the musical theatre style. And combined with some great choreography (by Michael Ralph), there are some worthy ensemble pieces – the Wall Street 'All About the Green' is an excellent opening for Act 2.
It's a good ensemble too: each of them has their own character and it's good to see a group that isn't uniform. They're all great performers, though standouts here are Connor Morel and Romy Vuksan. Towards the end, each adopts an iconic eighties' identity, and these are some of the funniest moments of the show. There are so many references to 1980s music, television, and movies that you won't see all of them: nods to Michael Jackson and Madonna are expected, but the cast surprise with many others.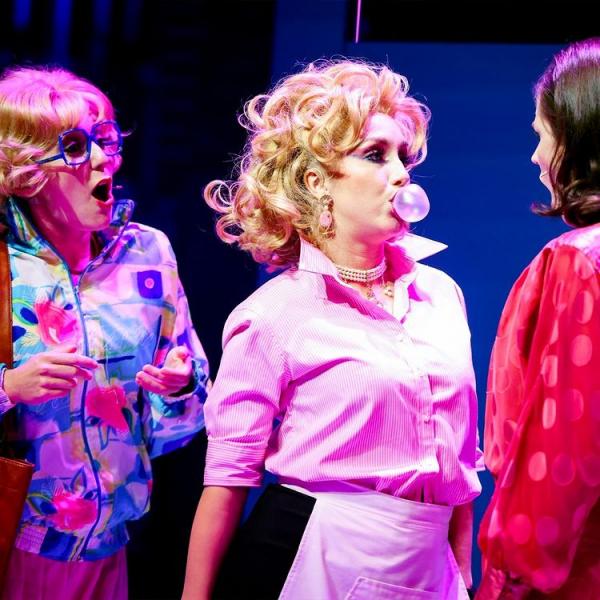 The set is a little too simple – a cityscape outline, two sliding walls mid-stage that move to indicate a changing scene, and a lot of neon light. There's not a lot else to differentiate between the many distinct locations, though this isn't too challenging for the audience. Lighting is functional, and sound is great (though the cast's large microphone headsets could be distracting).
As a look back to the eighties, there isn't too much commentary on what was deemed to be okay then but isn't today: issues of gender and sexuality are made light of, with the only strong theme explored being that money doesn't buy you happiness. The story turns too easily on almost-farcical misunderstandings and characters motivations to change are not always evident or convincing. But this is a romantic comedy and not an inspiration to change the world (though it might inspire a revisit to eighties music). This is a night out to forget the world outside and laugh at the excessively shiny clothes you wore to clubs and the awful parachute pants you wanted to wear everywhere. And to remind you that whatever the era, you need to love who you are, and love what you do.
Mark Wickett