West Side Story
Book by Arthur Laurents, music by Leonard Bernstein, lyrics by Stephen Sondheim. Presented by Free Rain. The Q Theatre, Queanbeyan. 8 – 24 February, 2013.
Lovers of musicals are in for a treat with Free Rain's production of West Side Story. Most people will be familiar with the plot and importance of this updated Romeo and Juliet, set and written in the 1950s, concerning the teen street gangs of 1950s west side New York. The Jets, a white working class gang, are planning a fight over territory with the Sharks, a gang of Puerto Rican migrants, when ex-Jet Tony falls in love with Maria, sister of the head of the Sharks.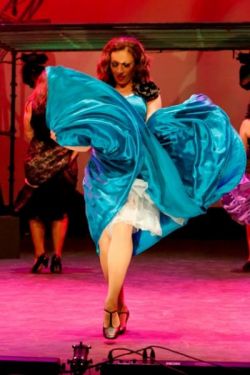 West Side Story was ground-breaking in many ways when it was first performed on Broadway in 1957, in that it was social commentary (although with the benefit of hindsight we can now see the stereotyping), but also for the innovative dance and music. The rhythms and melodies are ridiculously difficult, full of cross-rhythms and tri-tones with a Latin feel. The tri-tones (known to some as "the devil's chord" for the unsettling feeling they engender) add urgency to the music, which, along with the dancing, pushes the pace towards the climax.
In the main, this young cast (many of whom are teenagers themselves) sails through the challenges presented by the complexities of the music and dance. There were the usual glitches which can be forgiven in amateur theatre, but these do not detract. The leads, Lachlan Whan and Nicola Hall, are engaging and attractive as the young lovers, and both gangs convey a tense mix of anger, fear and bravado.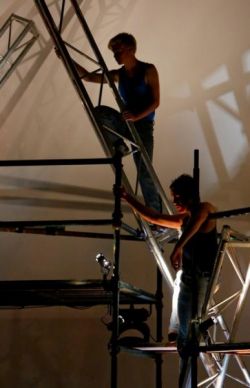 The musical direction and reinterpretation of the score was beautifully handled. They've squeezed an impressive, small orchestra into the little pit which produces a very big band sound. Highlights are the favourite America, Gee Officer Krupke, and a spine-tingling Somewhere, which has been rescored to benefit from the vocal talents of Max Gambale and Sarah Darnley-Stuart. The retro-styled choreography is energetic, conveying threat and stylised violence. There are also Spanish and jive-inspired dance sequences which look fantastic with the women's bright satin fifties dresses flashing as they twirl.
The set is minimalist, comprising largely scaffolding, which works well and throws interesting shadows but is perhaps now a little overused? The pacing falters just once in the opening, when the music picks up pace but the movement freezes. After that, the show launches into movement which doesn't slow until the end.
Anyone who knows and loves West Side Story and its music should get themselves to the Q to catch the show. It's a great night out and they'll enjoy it enormously.
Cathy Bannister
Images: Max Gambale as Action with the Jets; Jets on the scaffolding & Tamina Koehne-Drube, in West Side Story.