West Side Story
Music by Leonard Bernstein. Lyrics by Stephen Sondheim. Book by Arthur Laurents. Conceived by Jerome Robbins. Directed by Gale Edwards. State Theatre, Arts Centre Melbourne. 11th-19th July, 2015
If there was ever any question about the towering, innovative qualities of excellence that abound in this justifiably iconic musical, they are laid to rest once and for all in this, The Production Company's, 50th production. Other musicals may pale and grow old or dated; their books may lose their lustre; their characterisations become stilted and cardboard 2D like over time; but not so West Side Story. Those who have only ever seen the film must get themselves to this near perfect offering in the measly 9 day season (how can that possibly be just when the dreaded Strictly Ballroom is still running?). And that is really all I need to say in this review except…
How can I NOT say Thank You to Guy Simpson and the 31 dazzling members of Orchestra Victoria whose interpretation of the score was simply superb, aided by the marvellous sound by System Sound. PLUS it would be a travesty if I didn't bend my knee and genuflect at the astonishing talent of Michael Ralph, whose re-creation of Robbins' original choreography is not only masterful and dedicated to excellence, but shows tiny individual flashes of the Ralph originality which will undoubtedly see him become this country's, and the one of the world's, top musical theatre choreographers. The dancing is simply stunning. And I must acknowledge Gale Edwards stunning overall vision in handling the complexity of the storytelling and finding the perfect blend with music and dance.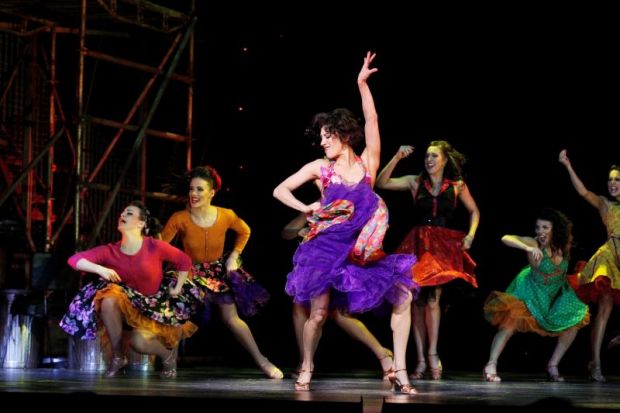 Then there is Trudy Dalgleish's breathtaking lighting design, which transports Maria and Tony (along with the audience) to a fantasy world of Love engulfed in turquoise and purple – I have never seen such strong colours used to convey such deep and ethereal love. It is a masterstroke and Dalgleish told us the story through lighting….this love is too deep, too intense, for pastels….out with your baby pink and sky blue. Those are saved for the washing hanging on the line in the laundry. Shaun Gorton's set is all you could ever wish for in a production that has such limited preparation time… a huge intimidating urban landscape of cyclone wire, a thrusting fire escape…an empty wasteland of space waiting to be filled….a triumph. And if Tim Chappel's costumes – in particular those for the Jets' girls – were anachronistic and disappointing, well, they probably would have been satisfying in a production where everything else wasn't of such a high order, and in truth the Shark girls fared much better. Also odd was the dressing of Tony in a singlet and Maria in a red dress….something Bernardo would never let her wear.
And so to the performances – and here I must add a caveat that I was upstairs in the circle and could not see facial expressions, so often had to rely on overall body language to reflect acting ability. Regardless, I defy anyone not to have fallen totally in love with Anna O'Byrne (Maria) and Gareth Keegan (Tony) long before they get to "One Hand, One Heart", which reduced this tough old bird to tears. Both are superb, beautiful singers (O'Byrne's soprano is like Crystal water, so pure, and Keegan held his own in their duets), truthful actors, and charismatic stage presences.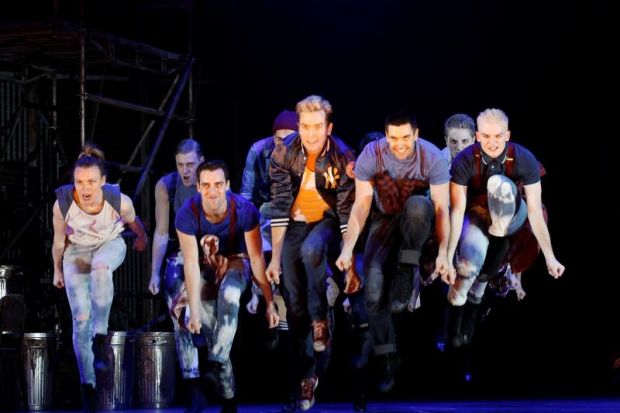 It's unfair to even review Deone Zanotto since she was ill with laryngitis – Amanda Harrison sang the role brilliantly considering she had only one day with the score. Natalie Gilholme provided the dialogue and was not always convincing in the dramatic moments. On a good day Zanotto is a fabulous triple threat, but last night even her dancing seemed a little passionless in "America" in particular, not surprising under the circumstances.
I was disappointed in the overall stiffness of Adam Fiorentino as Bernardo. His body language didn't convey enough arrogant self confidence to reach well into the circle and there wasn't enough charisma for me in his dancing….but perhaps I should confess to being a George Chakiris worshipper.
Sean Mulligan was an admirable Riff and Jared Bryan was electric as Action – though it did seem that "Officer Krupke" would have worked better for him if it was raised a semi-tone…but that luxury doesn't exist in very limited runs. Rob Tripolino impressed with his subtlety as Chino and Bianca Baykara was perfect as Rosalia. The gang members all danced superbly - though, inevitably, the levels of excellence did vary.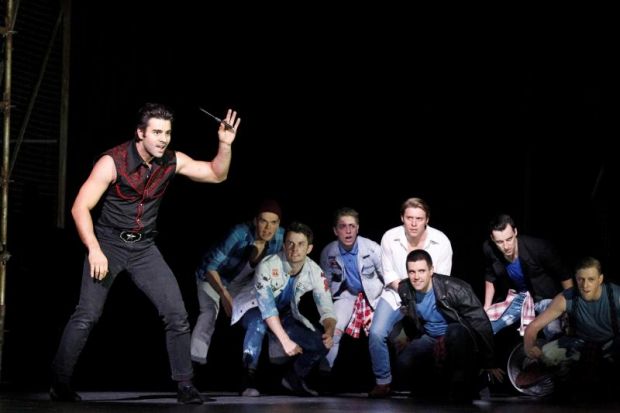 Senior cast members Neil Melville (Schrank) and Tony Rickards (Doc) brought a different level of expertise and energy to their performances and Glaston Toft (Glad Hand) and Dean Vince (Krupke) are always valuable additions to any production.
The entire cast, orchestra and crew deserve huge bouquets for pulling this together in such short time and with such stellar results. I love this show to death and will return next week to see it from the stalls….hopefully to see Deone Zanatto do her stuff in all her glory…it really does get only a smidgin better than this.
Coral Drouyn
Images (from top): Anna O'Byrne and Gareth Keegan; Deone Zanotto and Shark Girls; Sean Mulligan and the Jets; and Adam Fiorentino with Gareth Keegan and the Jets.