Whale Fall
By Ian Sinclair. Produced by The Kabuki Drop, Commissioned by PICA and co-presented with Perth Festival. Directed by Melissa Cantwell. PICA Performance Space, Perth Cultural Centre, WA. Feb 17-27, 2021
Whale Fall looks at transitions across multiple generations, family dynamics, the human body and ecological change. An Australian family drama, set on the beach, the story plays against the story of a dying whale, as it slowly falls to the bottom of the ocean, to form a new biodiverse ecosystem.
When estranged mother Nadine returns to reconnect with her child, she finds that her daughter Hayley has "disappeared" and her now son Caleb needs her permission to begin the transition process. Her former husband is still angry, his new partner knows her child better than anyone, and her childhood home is being pulled into the sea.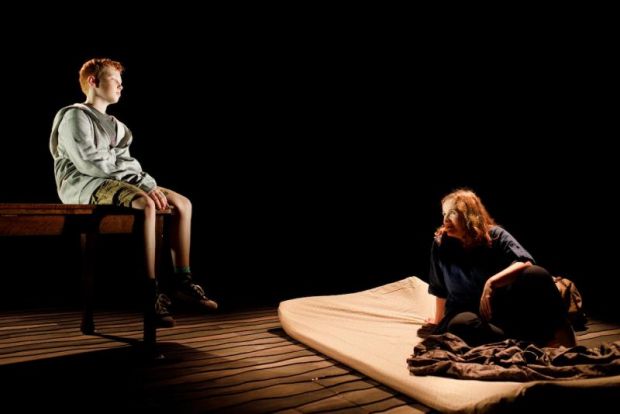 A wonderful performance from this tight ensemble. Ashton Brady shines as Caleb. Making his professional debut, this outstanding young actor brings depth, breadth of emotion and a deep understanding to the complex role of the intelligent, sometimes angry and highly nuanced Caleb.
Caitlin Beresford Ord is excellent as Nadine, conveying a complicated history and problematic relationships with her child and former husband. Luke Hewitt's Irving's love for his son is clear, in a beautiful performance. Alexandria Steffensen also delivers a very strong, moving performance as the "step-mum" caught in the middle of arguments and negotiations.
Bruce McKinven's set is highly textural, with nods to the power of nature - especially the sea - with strong atmospheric impact from Matthew Marshall's strong lighting design and Rebecca Riggs-Bennet's integral composition and sound design.
An interesting examination of how transitions of any type have an effect on everyone around them and a beautiful comment on the power of nature and change.
A beautiful, moving and important production.
Kimberley Shaw