What The Day Owes To The Night
OzAsia Festival. Dunstan Playhouse, Adelaide. October 22-23, 2019
What the Day Owes to the Night is quite simply a triumph!
Inspired by the revelation of French choreographer Herve Koubi that his ancestry is ethnic Algerian and not French as he believed, What the Day Owes to the Night utilises a bare stage and 13 men from Algeria, Morocco, France (whose first name is Giovanni), Italy and Israel.
They are bare chested and wear long white pants with a layered skirt over the top. These skirts swirl in white circles and can provide safe surfaces on which other performers can lay down, or to mop up perspiration.
Even before the curtain rises, the theatre is filled with an ominous mist, then, as is often done in the OzAsia Festival, Koubi himself comes to the front of the stage and welcomes us, tells us his story and the story of his creation.
At the rise of the curtain we see a pile of bodies, dimly lit. The dance piece then unravels, with music by Bach, Sufi rhythms and Egyptian influences.
Slowly writhing, they come to life and by the light of a harsh spot at the back of the stage they begin what could be described as a pagan, almost religious rite of ritual.
What is astounding about these dancers is their sheer athleticism. There is a combination of sufi whirling, break dancing, ballet and gymnastics, all seamlessly moulded into one style.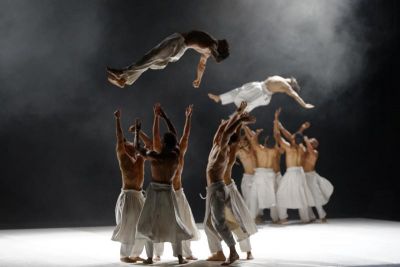 The section with the entire company performing headstands with their legs in the air is technically amazing and astounding to watch at the same time.
When not dancing they prowl around the edges of the stage like gladiators or wild animals waiting to pounce. Occasionally they leave the stage one by one or in small groups only to return and begin their contribution to the dance again. This slow movement becomes almost hypnotic and meditative at times, adding a touch of relief to the frenzied movement on stage.
All movement when not dancing is deliberate, purposeful and mesmerising leaving us unsure what to expect next.
The conclusion of the piece sees one dancer chanting and the rest of the company fading slowly to black, a very powerful image that left a compelling impression on those of us fortunate enough to be part of this event.
At the end of What the Day Owes to the Night the audience spontaneously rose to their feet as the 13 performers stood at the front of the stage, finally in full light as they accepted their well-deserved applause and knowing they had shared something special with us.
We left the theatre with the realisation that we had witnessed something memorable and had become part of the dancers' lives for 60 minutes. It was an experience that will remain for a long time to come.
Barry Hill
Photographer: Nathalie Sternalski