This Is Where We Live
By Vivienne Walshe. State Theatre Company of South Australia and Hothouse Theatre. Directed by Jon Halpin. The Space Theatre, Festival Centre, Adelaide. May 12-16, 2015
This Is Where We Live is a confronting hour of theatre, that is uncompromising in its exploration of such topics as teenage alienation, depression, substance abuse, dysfunctional families and social prejudices.
The play basically takes the form of a series of monologues delivered by Chloe (Matilda Bailey) and Chris (James Smith) – two teenagers growing up in a small country town who bemoan that society has presented them with limited opportunities, their peers treat them with bullying contempt and that teachers/parents relate to them with prejudiced condescension. Though the two of them develop a passionate connection , they still struggle to relate to each other on terms of equality and their dialogue is delivered in a self conscious style, punctuated with asides to the audience.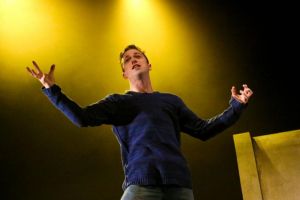 Vivienne Walshe's lines are stylised and not naturalistic teen speak, but her wit cuts to the bone and the underlying sentiment of her words feels painfully authentic. Bailey attacks the script with a ferocious, feral intensity that is sometimes frightening to behold, and is appropriate for her extroverted character. Smith, playing a more introverted personality, teases out moments of subtle humour from the proceedings and poignantly expresses many unspoken feelings through the subtleties of his facial expressions and hand gestures.
Rob Scott's lighting design tastefully compliments the fluctuating intensity of the characters' emotions and Morag Cook's set design, with a broken pipe featured prominently, is suitably evocative of the decaying town environment which feeds into the characters' despair.
Benjamin Orchard
Images: Matilda Bailey and James Smith. ©My Wonderland Photography