Which Way Home
Written and performed by Katie Beckett. With Tony Briggs. Directed by Rachael Maza. Darebin Arts Speakeasy & ILBIJERRI Theatre. Studio, Northcote Town Hall. 25 August – 3 September 2016.
Which Way Home has had a long gestation during which Katie Beckett has picked up some writing awards. We can see why with this show. With Jane Bodie as dramaturg and Rachael Maza as director, Which Way Home mixes broad comedy with the most touching emotions – and a heartbreaking backstory. The way the characters transform, revealing more and more of themselves up to the final moments is handled beautifully, with smooth transitions into and out of the past. This is not a show of high drama emotions; apart from a few flashes of exasperation or anger, it is a quiet study of two characters that draws you into them and makes you care.
Tash (Katie Beckett) is driving her elderly Dad (Tony Briggs) 'home' – back to where he was born, to where he was married, to where Tash was born – back to country. Really, it's Tash's country too, but she worries whether anyone will remember her. She's grown up with her single, widower dad in a big town, gone to school, got a job. A lovely subtext irony here is that these two indigenous people are going back to country, something immensely important and meaningful, particularly for Dad, but their initial talk is all mainstream Australia: they're both die-hard fans of the Brisbane Broncos, they know the same pop music, Dad never misses Home & Away, Tash had to get time off work and she's pretty anal about healthy diet.
The play is akin to a road movie, but Dad and Tash don't meet anyone along the way: it's all about them, the landscape and the past. Initially Tash comes across as the complete control freak: she has lists of everything, including of what to eat when, GPS on her smart phone and ETA at points along the way. (Later, Dad asks does her phone know everything? 'Yes,' she says, 'it's a smart phone!') But Katie Beckett takes her own creation, Tash, from anxious, bossy girl to bewildered, anxious child to understanding grown-up - and back again - gradually opening up by subtle increments to her Dad as more than her Dad - a human being who had his burdens and his reasons.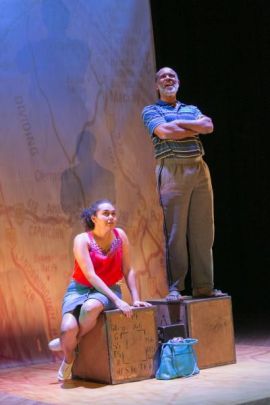 By contrast, at the start Dad is so relaxed he's driving Tash crazy, almost childlike in his joie de vivre. Tony Briggs yet again proves his acting chops here – although he's so full of life it takes a while to grasp that Dad is old. Mr Briggs' 'Dad' acquires gravitas as the journey proceeds. Several times he tells Tash, 'We're a team.' (Once she snaps back, 'The Broncos are a team; I'm your daughter!') He gave up so much for her, but he knows he's losing the little girl she was. She knows she'll lose him. As they drive – and bicker and stop from time to time – Dad responds with huge smiles to the vast landscape (it's neither 'empty' nor even flat to him) and Tash remembers moments from her growing up with her loving and mostly responsible Dad. Springing him in the TAB, his over-protective panics, the embarrassment of her first period and, most poignant of all, her widowed, still grieving Dad dancing with empty arms to 'I Don't Know Why I Love You Like I Do'.
Rachael Maza doesn't muck around with a mock-up car with a steering wheel. There're some boxes and luggage. Tash is driving and Dad is pointing things out – trees, birds, a hill - singing along to his CDs, munching sweets or snoozing. We buy that. Sometimes they stop. The journey is suggestively rendered, first, with sound – the car running on the bitumen or on dirt, the desert stillness, birdsong growing louder as Tash and Dad get closer to country. Another fine job from Mark Coles Smith, assisted by Stephen O'Hara. Nick Pajanti's lighting design is also first class: urban light to desert light, fierce sunlight to eerie twilight and dark night. Set designer Emily Barry provides at least two superbly evocative touches. One is a thin stream of sand, falling from above and lit in such a way as to suggest 'country' and the ashes of the dead. The other is a backdrop on which we see a road map of outback Queensland that fades in the north to nothing but hazy light – it is the past and the future than can't be mapped.
Which Way Home pulls together and holds far more than its simple, humorous surface might suggest. In the context of a certain recent cartoon suggesting that Aboriginal fathers don't even know their kids' names, this play dramatises another take on that cruel caricature generalisation and at the same time reminds us with its last dark reveal of a darker past.
Michael Brindley
Photographer: Steven Rhall