The White Guard
By Mikhail Bulgakov, in a new version by Andrew Upton. Sydney Theatre Company. Sydney Theatre, Walsh Bay. June 7 – July 10.
There is something quite joyous about watching an ensemble cast work well together on stage, flexing their acting muscle all at the same time, all singing the same song from the same hymn sheet so to speak. The White Guard has such a cast and not one of them sang a bum note or were off the beat.

It's fast, funny and treads a precarious line of broad humour without falling into slapstick which it easily could have. The direction was clear and well executed and Andrew Upton shows a talent for creating lovely theatrical images, largely assisted by Alice Babidge's set and Nick Schlieper's lighting. Yure Covich was delightful as Von Shratt and truly terrifying as lead Bolshevik. Other stand-out performances come from Patrick Brammell, Darren Gilshenan and Miranda Otto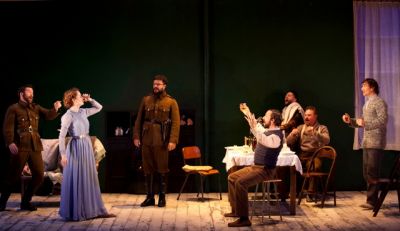 This is a funny show about a serious historical event the Russian Revolution and The White Guard who were the Tsar's supporters. But it is here that I suffer reservations. While the production overall is strong - carried by a great cast - the story itself is too thin to give it the depth and gravitas it needs.
The Russian Revolution is a serious story full of pathos, suffering, loss and violence and of course humour is needed to offset the darkness. But the balance is not there. It's too light. Andrew Upton's translation has too much joie de vivre and as a result the moments of seriousness don't really cut through and affect the audience.
Whitney Fitzsimmons
Images
Patrick Brammall, Miranda Otto, Tahki Saul, Richard Pyros, Cameron Goodall, Darren Gilshenan and Dale March in Sydney Theatre Company's The White Guard
Patrick Brammall, Miranda Otto, Cameron Goodall, Richard Pyros, Darren Gilshenan and Dale March in Sydney Theatre Company's The White Guard
Photographer: Lisa Tomasetti.
To keep up with the latest news and reviews at Stage Whispers, click here to like us on Facebook, or follow us on Twitter.