Who's Afraid of Virginia Woolf?
By Edward Albee. Repertory Theatre (Christchurch, NZ). Director: Elsie Edgerton-Till. Elmwood Auditorium. 2-8 November 2011.
You can take the Society out of the theatre, it seems, but no way is the theatre urge leaving the Society. This fascinatingly nasty play hit the stage very early in the distinguished playwright's career, but its indelible insights and linguistic flair marked it for classic status from the beginning, in spite of its shocking ways. As such, it fits well within Canterbury Repertory Society's focus and the production at Elmwood is well up to the high standards maintained with such passion in the Old Girl of Kilmore Street.
The play not only strips away the veneer of conventional civilised behaviour from the post-party nightcap of its four protagonists, but at a social level reveals the self serving business of American university politics, and beyond that again, it lays starkly bare our desperate human needs. No matter how visceral the struggle to keep up appearances, the best we can probably hope for in the end is a bit of fellow feeling and compassion.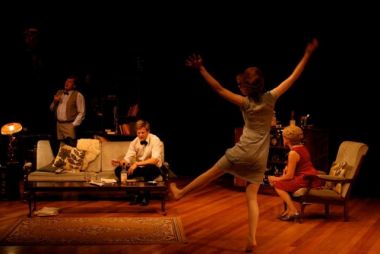 It is a long and often painful play, driven by stories reflecting back their lives to two couples.It gradually whittles away at the sociable assumptions which brought them together after a Faculty party where the eponymous question formed part of the glib entertainment they have all enjoyed. Now, however, it becomes an increasingly desperate refrain, until the final answer confirms the hollowness of any bravado. We are all afraid. That's it.
This production is handled with great assurance by Elsie Edgerton -Till, in her debut as a director for Repertory. Its success was recognised on opening night by an appreciative audience, riveted by the middle aged history academic and his volatile wife,who will use and abuse each other in various combinations for the whole intense distance, enmeshing as they do the young biology lecturer and his wife who are, in their turn humiliated by the truths they are forced to concede. Neither history nor science is a match for the white heat of revenge, lust and wilful destruction which fuels their encounter.
The production is well supported by Julian Southgate's expansive set, with the all important cocktail cabinet at the centre of things and furniture so widely spaced that both isolation and emotionally charged moves are easily accessed. Its authentic sixties character is echoed by other elements, especially Amanda Dickie's costumes and hair/make-up attention from Hey Judes.
But as always, it is the ability of the cast to engage us that ensures the overall response of an audience. As the young couple, Paul Pringle(Nick) and Alice Connolly (Alice) develop very convincingly from their politely confident beginnings to their sadder, wiser exit. The older pair, whose games have first enmeshed them and then destroyed them, is brilliantly captured by Helen Moran as Martha and Julian Anderson as a beautifully nuanced George.
All up, this is a production to be proud of and one which augurs well for the Society wherever its talents take it.
Gus
To keep up with the latest news and reviews at Stage Whispers, click here to like us on Facebook, or follow us on Twitter.
Below - Where Christchurch's Repertory Theatre once stood - link to earlier coverage