The Who's Tommy
Music and Lyrics by Pete Townsend. Book by Pete Townsend and Des McAnuff. Blue Mountains Musical Society. Evan Theatre, Panthers, Penrith. May 27 – 31, 2015
Tommy is a 'sensation'-al high energy, multi-media rock'n'roll celebration at BMMS.
Live theatre, music video and rock concert ambience meet in two pacy hours of high-energy fun, rating very high amongst rock musicals I've seen on Sydney's Community Theatre circuit over the years.
Director Jessica Lovelace's savvy interpretation and vision uses technology and costuming to bridge the decades since the release of The Who's 1969 Double LP concept album about the deaf, dumb and blind kid who becomes a 'Pinball Wizard'.
Pinball was the rage in the late 60s, but lightning fast ambidextrous iPhone gaming makes for a striking contemporary parallel; adroitly manipulated across the company, they make a simple but highly effective youth culture statement in this production.
Fashion has swung full circle since 1969, and the costumes, which initially struck me as nifty swinging 60s, are exactly what you'd buy now in fashion shops, I'm told, though in somewhat shorter cuts than 60s versions. The ensemble look fabulous in these, and in slinky outfits designed for specific numbers. This is a very young, sexy production.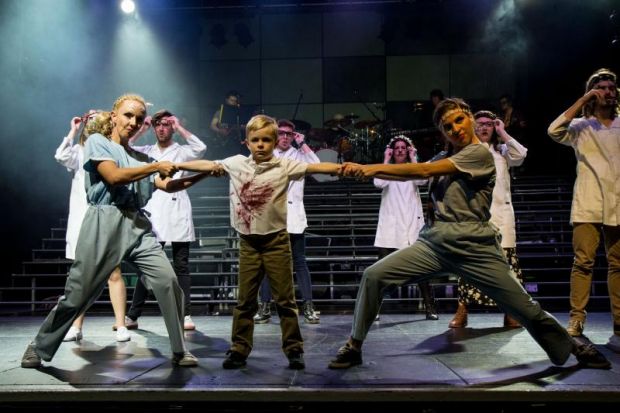 Taking multi-media in community musical theatre in directions I've only previously seen on professional stages, sophisticated use of live video projection seamlessly blends video and stage action creating powerful images. The composition is meticulous and creative, and there's some magic moments when video merges with smokin' rock'n'roll lighting.
All this is achieved on a minimalist setting, with the band standing on a platform at the top of a grandstand style scaffold; its steps are used to clever, varied effect through the show.
There are no lulls or gaps in this vibrant production. Big ensemble numbers are joyous, youthful celebrations. Ensemble groupings are also used effectively to mask some terrific reveal moments.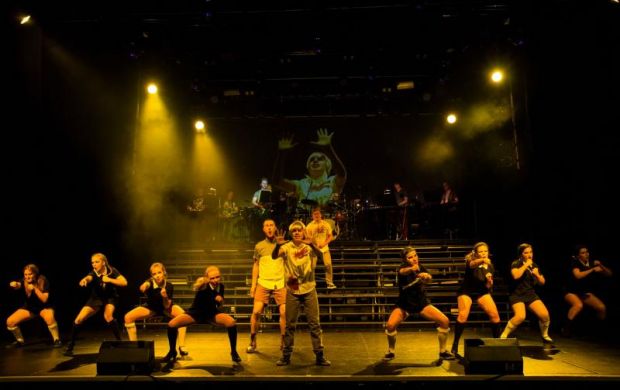 A pulsing rock band, led from the drum kit by Matthew Lovelace, drives this Tommy, with the sound design providing a very effective rock mix.
18-year-old Liam Gray gives a remarkably mature acting performance as the older Tommy, and sings the role splendidly. His interactions with the younger Tommys, Jonah Blackwell (age 4) and Pedro Donoso (age 10), are visually and emotionally powerful.
Clare McCallum and Simon Dane handle the straighter roles of Tommy's parents capably, both vocally and dramatically.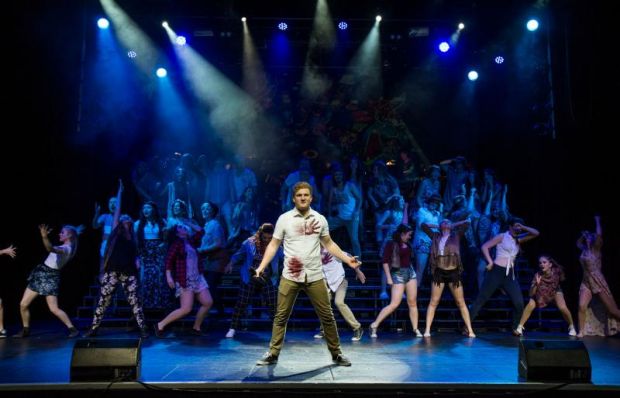 As the pedophile, Uncle Ernie, Craig Wynn-Jones oozes dark, sleazy comedy, with a grotesque nod to British Music Hall, the irony of which makes him all the more creepy and insidious. His scene with Tommy, sensitively handled, is pretty gut-wrenching.
Thankfully the bully, Cousin Kevin, provides Simon Halligan with an altogether lighter dark comedy to put across, helped by a bright, cheeky dance routine.
Melanie Driver makes the much of her high-octane cameo as Acid Queen, though Emma Druett and Aarin Starkey as the Hawker and Harmonica Player go close to upstaging her with their introduction. In fact there's really an abundance of good young solo voices in this show. Bronte Rayner and Rebecca Smith lead "Pinball Wizard" effectively, while late in the show Jacqui Dwyer brings a beautiful, fresh voice to the role of Sally Simpson.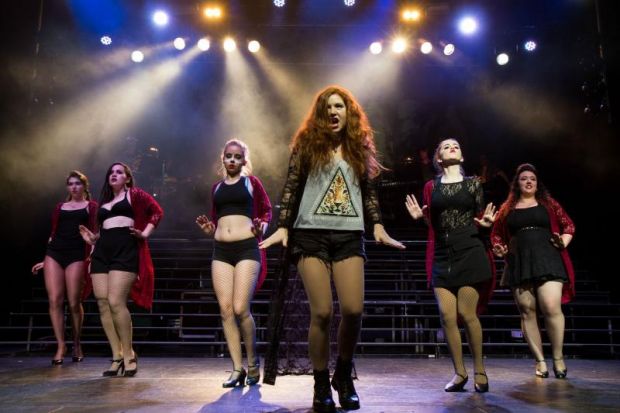 The plot of Tommy is broadly sketched; in places you could drive a truck through the gaps, but it knows what it is, lively entertainment, which doesn't take itself too seriously. Often it feels like little more than a series of great rock songs, loosely connected by a slim narrative, flirting with themes including the cult of celebrity. That's O.K. though, because what this production delivers feels right for that too, like a series of rock video clips. Sharing the big numbers between six choreographers only serves to enhance that.
This Tommy isn't just theatre, it's a joyous rock'n'roll party with one of the iconic albums of my teens, celebrated by another generation enjoying it as much as I always have.
I had a fabulous night; I'm full of admiration for this exuberant young cast and a creative crew with the perfect feel for the show.
Neil Litchfield