Who's Your Baghdaddy? or How I Started the Iraq War
Music and book by Marshall Paillet. Lyrics and book by A.D. Penedo. Curveball Creative. Director Neil Gooding. Streaming live from 24th-28th June, 2020. Available to view until July 12.
LATEST: From Monday 29 June Who's Your Bagdaddy (Or How I Started The Iraq War), which was performed online from 24 - 28 June for five performances, will be available to view until Sunday 12 July through www.baghdaddymusical.com.au. Tickets will be on the same sliding scale as the live performances, starting from $22, with any added donations split between the Actors Benevolent Fund of NSW and the cast and crew.
WOW. Just WOW. I could actually leave it there but that wouldn't do justice to this astonishing production. Yes, we all know that Covid 19 has closed all the theatres. Yes, we all have seen telecasts or videos of live productions. Yes, we remember (some of us) that back in the fifties entire plays were broadcast live from television studios and if you stuffed up, well, you couldn't reshoot. No big deal … except …
In this time of pandemic, imagine if you will (in best Rod Serling voice) eight superb double/triple threat artists in different rooms and a closet, not getting together even once in rehearsals. Imagine the quite amazing Neil Gooding directing them from yet another isolated room, and Musical Director Steven Kreamer isolated in yet another location, and choreographer Leah Howard in yet another location rehearsing the moves. Then imagine an entire production team under technical director Michael Goodyear in yet another house co-ordinating sound and picture quality from 9 different performance locations, bringing it all together into an integrated LIVE (nothing pre-recorded - nothing edited) show that entertains for almost two hours. You may be saying "I'll believe it when I see it!" Well, see it you must.
The show itself is Off-Broadway fare but of a much higher calibre than we might expect. Starting with a session in a psychiatrist's office where all of our protagonists are dealing with their guilt over their perceived responsibility in starting the unwinnable war - they tell their stories. And what a screw up the entire operation proves to be, through a side-lined expert in WMD, investigators, CIA analysts, an Iraqi defector code-named Curveball, right through to the top of government hierarchy, where the second in command is known as "His Controliness".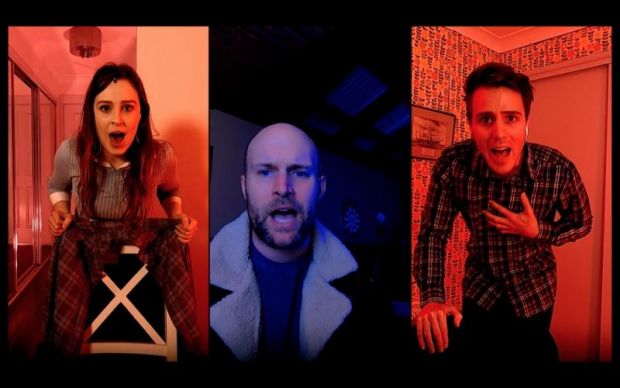 The time period is 2001-2004. Those three years changed the face of America, much as this production could change the face of theatre. The music is excellent, from the comic songs right through to some highly emotional ballads. Curveball (Troy Sussman) brought tears to my eyes with his plea for asylum in "Stay", and the entire company shines in the first half finale "Who's your Baghdaddy." We all know how artists feed off each other for energy, but the energy levels were through the roof in this number and you totally forget - with a bank of split screens - that they are not all on stage together.
Casting is superb, and Neil Gooding deserves an award for that alone. It's hard to imagine better harmonies or vocals from any cast. But this isn't just a piece of frippery; it requires real acting chops as well as great singing.
Doug Hansell, as the tortured Weapons Analyst who starts the entire war by falsely identifying the WMD, is wonderfully intense throughout. His guilt is palpable, and (in one of the beauties of this format) it could be seen in his eyes. Troy Sussman seems to just keep getting better with age. His vocals have always been amazing, but it's his comic timing and expressions that really take the material to another level. He is both moving and hilarious - a tough gig for any actor. He owns the "stage" when he's on, in a performance that would be show-stopping with a live opening night audience.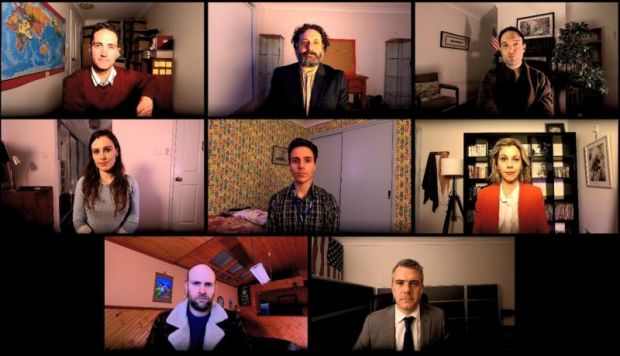 Adam Rennie has a voice to swoon to, his top register, in particular, bringing a necessary lightness of touch, but he also injects real warmth and depth to the nerdy and hesitant Jerry, a Geeky CIA analyst anxious to please everyone. Rennie is an astonishingly versatile performer who can juggle such things as Rocky Horror Show with a Michael Buble concert, and excel in both.
Laura Murphy manages to inject some real humanity into the brittle and ambitious Berry, who "plays" Jerry for her own agenda. She has a really individual and compelling style and great presence.
Philip Lowe uses his considerable charm to make CIA operative Tyler Nelson totally credible. Steadfast and unbending in his rigid views of patriotism, Tyler represents the bureaucracy in all its elitist hypocrisy, but we can't help but like him thanks to Lowe.
Matthew Predny is wonderful as the junior German interrogator Richart. He is indicative of the depth of talent in this country, equal to anywhere in the world. A triple threat who deserves more leading roles, he's a great young talent whose energy alone would be imperative to any production.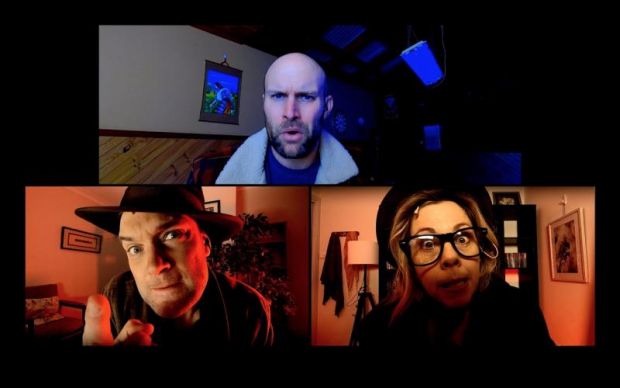 Blake Erickson is billed as "Man" but he is so much more than that. A great voice and a versatility that is convincing as a dozen or more diverse characters. Katrina Retallick - "woman" - plays 14 different characters and makes them all different; plus there's that gorgeous soprano voice adding a mellifluous tone to the musical numbers.
Leah Howard's choreography is limited because of the medium and cast and location restrictions, but the fluidity of movement is great, and the ensemble numbers truly are ensemble.
It's hard to see where theatre design and camera design split, so tight is the integration. And though there were two dialogue flubs that I spotted, and some streaming glitches and loss of Pixels, nothing could mar the magic of the event.
Being of another generation I found myself wishing I could see this onstage. Would it be better, or less powerful? I truly don't know. But what I do know is that this was a remarkable piece of entertainment at a time when we all desperately need it.
Coral Drouyn
Stream it live until June 28
https://www.curveballcreative.com.au/
David Spicer also reviewed this online production.
This production is a full throttled embrace of the digital medium for live performance, of a musical that is funny, has nice tunes and packs a political punch.
The musical begins at an Alcoholics Anonymous style meeting of former middle ranking spies and analysts, where they confess or deny their responsibility for the Iraq war.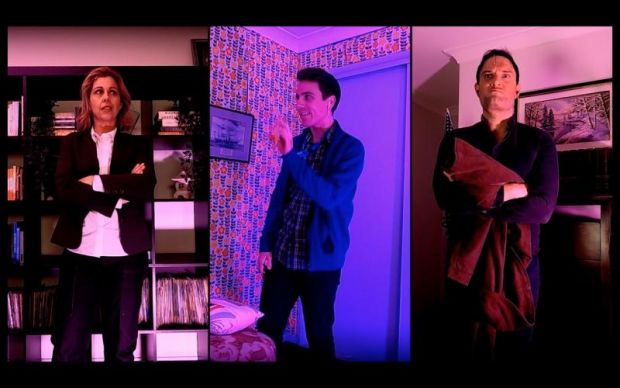 Technically it was a little tentative to start with. When the 'digital curtain' opens the actors are all being filmed live in different rooms, to keep them at a COVID-19 safe distance from each other. Actors appear on screen one by one resembling a zoom meeting. A few times a fallback image leaked onto the screen but any trepidation that glitches would mar the performance were soon dispelled.
The production moves on from actors in rectangles, to a myriad of configurations. Faces float around the screen with Disco light trappings, actors interact with each other – looking in the right direction, they travel in a tunnel, another time all the lights all go out.
Miraculously the singers were in sync. During the curtain call, when the camera goes behind the scenes, to show the audience the endless supply of cameras and lights and mixers set up to support the cast, the penny drops about how they managed to keep it together.
When the narrative involved a flashback to an actual video of politicians justifying the invasion of Iraq, it almost felt like the musical was meant to be a digital production. The room 'backdrops' ranged from a lounge room, to a store room, to a space that passed respectively for a CIA office. The musical accompaniment was on the thin side – but compensating for this deficiency was the positive of close ups, which actors embraced to communicate directly with the audience.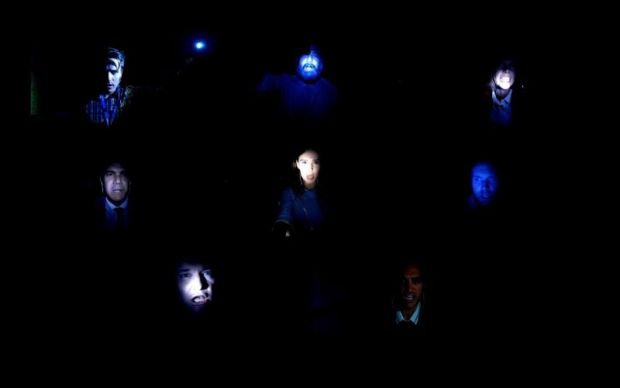 But what was the musical like, you ponder? Well just as the title is a little hard to digest and at first the subject matter for those not interested in politics is on the dry side - for someone like me, who feasts on politics, it has plenty of meat to get into.
A musical with lots of farce is a good medium to dissect the stuff ups that prompted the United States, Great Britain and Australia to invade Iraq on faulty intelligence reports that Saddam Hussein was in possession of weapons of mass destruction. It has some nice tunes embracing styles of disco, rap and traditional music theatre ballads.
Actors in a live performance bounce off an audience. They feed off the applause, or milk the suspense of high drama by riding the gasps of people watching them.
Overall the ensemble, under the direction of Neil Gooding, overcame this void to build up the energy in the musical.
There are lots of juicy roles for the cast. Laura Murphy as Berry, the ambitious but reckless CIA agent, took command of the camera, Troy Sussman as Curveball the Iraqi defector in Germany was charismatic, Adam Rennie was fun as Jerry, a goofball CIA operative, whilst Blake Erickson and Katrina Retallick chimed in wearing lots of different hats.
More serious roles were delivered nicely by Doug Hansell as Martin, a sad Weapons of Mass Destruction inspector, and Phillip Lowe hit just the tone in the role of Tyler a consummate CIA operative.
The producers and whole team turned the calamity of COVID-19 into a triumph.
David Spicer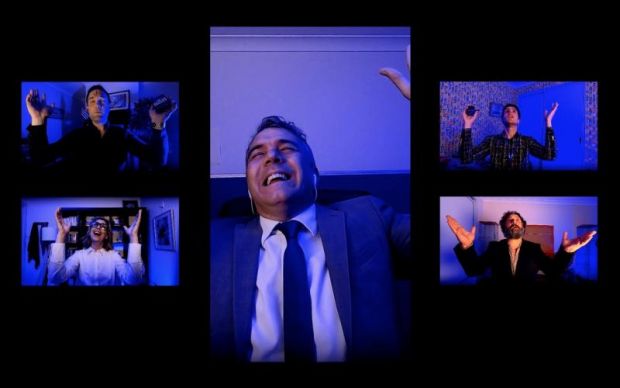 Stream it live until June 28