Wicked
Music and Lyrics by Stephen Schwartz. Book by Winnie Holzman. Manly Musical Society. Glen Street Theatre (NSW). Dec 8 – 16, 2017.
The backbone of this production was a spectacular projected animation, which used large moving LED screens trucked across the stage, taking the audience on a kaleidoscope around Oz. The images ranged from the inside of a clock to a hurricane. All were especially vivid due to the intimate seating of the Glen Street Theatre.
The entire multi-media – which must have taken hundreds of hours to program - was custom made by the lighting/set designer Matt Osborne under the talented direction of Declan Moore.
Just as it looked amazing, so too did the performers live up to the high standards. Melody Beck sparkled as Glinda the good witch, playing opposite a soaring Elphaba, Kathy Xenos, who stepped in to cover the role with panache.
Elphaba is, of course, famously covered in the green make up, and Kathy ended up smearing a bit of the of the green stuff on Eric Presnall, as Fiyero, when the two became entwined. The Manly Musical Society must have been delighted when Presnall, a Northern Californian expat with professional music theatre credits, turned up to audition.
Lachlan O'Brien as the Wizard threw in some of his favourite magic tricks to spice up his routine, whilst other stand outs were Harrison Riley as Boq and Blake Lovely as the goat professor Doctor Dillamond.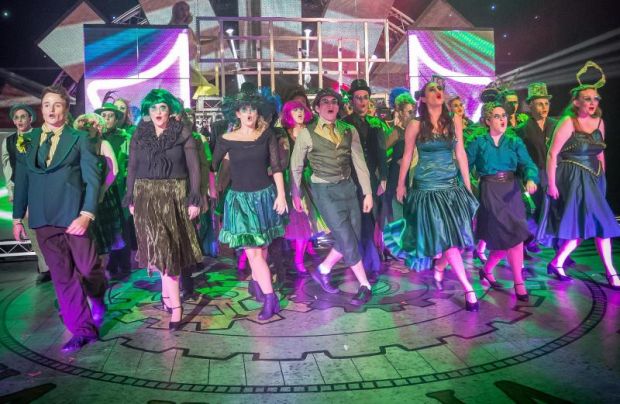 From the first steps the chorus were especially crisp, under the polished choreography of Sarah Friedrich. Another trooper was the conductor Anthony Cutrupi. His hands were waving from an open hole in the stage with his head barely visible. The smoke machine sucked all the fog into his space, which would have made life interesting for the musicians under the stage.
The first time you see Wicked there is the delight in seeing how it fits like a glove as a back story for The Wizard of Oz. Based on the novel by Greg Maguire, it explains questions such as how the Tin Man became the Tin Man, and gives a whole new perspective on what you may have thought is a good or evil witch. Then when you have seen it a few times it stands more on its own two feet.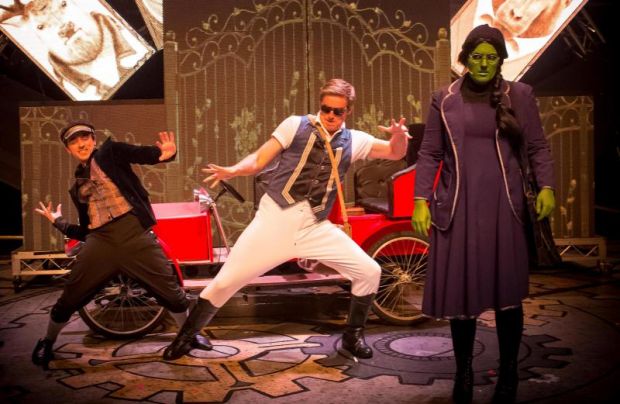 However comparing the regime of the Wizard to fascism always struck me as a stretch. Some of Schwartz's discordant score can lose its appeal if you hear it too often, but all is forgiven when the songs Popular and Wonderful are reprised.
The Manly Musical Society usually performs in the much more restricted space of a local High School and relished the leap into a venue with greater scope. With Wicked, the Manly Musical Society has staged a first-rate community theatre production.
David Spicer
Photographer: Jim Muir.