Wicked
Music and Lyrics by Stephen Schwartz. Book by Winnie Holzman. Based on the novel by Gregory Maguire. Young Australian Broadway Chorus. Director: Robert Coates. Musical Director: Andy Coates. Choreographer: Jacqui Green. National Theatre, St Kilda. January 19 - 27, 2018.
This was the third production of Wicked I have encountered. I saw the professional production when it came out, and reviewed a performance by one of the top amateur companies. So how would a company of juniors cope with this demanding musical?
In a word, magnificently!
With an ensemble of well over 100 performers, none over 21, the stage was generally bare, with big cogs on the sides in front of the proscenium. Different pieces of furniture were quickly brought on for different scenes to allow the action to flow. Much of this occurred in semi-darkness. The lighting was impressive.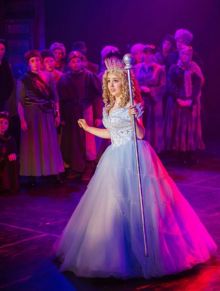 The large chorus was a highlight. The sound was powerful, the harmony tight and the choreography even tighter. No professional company could afford an ensemble of that size. At one stage there was a large chorus of citizens of OZ then the curtains opened and we had a larger chorus of citizens of the Emerald City.
The demanding role of Elphaba was sung by nineteen-year-old Emily Svarnias, who easily covered the full vocal range, from the touching pathos of "I'm not that Girl" to the powerhouse "Defying Gravity". Eighteen-year-old Jasmine Arthur, a delightful Princess Fiona in Shrek Jnr last year, was equally impressive Glinda, looking and sounding beautiful. The two worked very well together.
Tall, dashing Rishab Shrivastav was the love interest, Fiyero, torn between the two women and singing magnificently. Taylor Troeth and Emily Palmer were both strong as Nessarose and Madame Morrible. There were no weak links in this production. The band, also utilising youth, was tight and the costumes impressive.
The only issue I had was the band sometimes being a bit loud, so that words were missed.
The standing ovation at the end said it all.
Graham Ford