Wicked
Music and Lyrics by Stephen Schwartz. Book by Winnie Holzman. Based on the novel by Gregory Maguire. Adelaide Youth Theatre. Arts Theatre, Adelaide. 21-23 December 2018.
Wicked was first performed in San Francisco, USA, in the summer of 2003, before transferring to Broadway later that year, where it is still running. It opened in the West End of London in 2006, arriving on our shores in Melbourne in 2008. It's an alternative telling of the backstories in the land of Oz, which first came to fame through the L Frank Baum children's book The Wonderful Wizard of Oz in 1900, and then through the immensely popular 1939 film The Wizard of Oz.
It tells the story of two unlikely friends: Galinda and Elphaba, the former, a bubbly socialite, the other, a green-skinned girl. They meet at Shiz University, where they are unintentionally thrown together as roommates. Initially having apparently opposite priorities on socialism and a social life, they become friends. Madame Morrible, who runs the school, recognises the spell-casting talents of Elphaba and arranges an introduction to the powerful wizard in the fantastically green Emerald City – but the man isn't as wonderful as his reputation suggests.
Adelaide Youth Theatre's enjoyable production thrusts us into Oz, using two casts of over eighty people on stage at alternate performances – opening night was the Emerald Cast.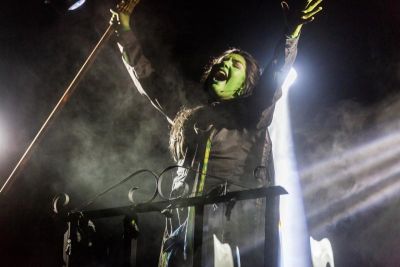 Georgia Broomhall's Glinda is perfectly ditzy and confident – her comic timing is tremendous – but she lifts another level when she's paired with the excellent Elphaba of Serena Martino-Williams. The two of them bounce off each other and we can see the evolution of a real friendship from their fear and misunderstanding. Whilst Georgia's Glinda is brash, Serena's Elphaba is beautifully subtle, not needing dialogue to display the complexities of trying to be okay with not fitting in.
As Dr Dilllamond, Matthew Monti is great in articulating his character's oppression, all behind a mask, and Taylor Tran's Madame Morrible takes on a decent English accent, as all good villains have.
When Jayden Preic's Fiyero rolls onto stage (quite literally!), once more it's the authentic chemistry – this time between Fiyero and Elphaba – that holds the attention. It would be easy to forget the young age of these performers as they navigate the first stages of a relationship that was supposed to be with someone else. Their first kiss made the audience roar – quite rightly!
Alanna Iannace's Nessarose offers us a peek into her need for love and her coldness when rejected, particularly with Boq, his fair intentions and frustrations played so well by Joshua Spiniello.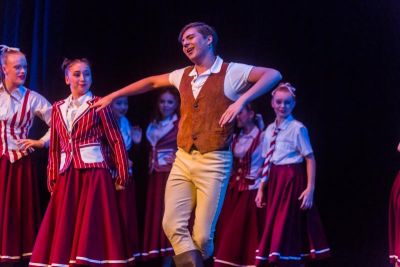 The ensemble is always present in all moments, singing and performing without fading throughout the two acts; they dance brilliantly with Shenayde Wilkinson-Sarti's complex and effective choreography – using all of the stage so well. The orchestra, directed by Jennifer Trijo, provide strong support with the thematic, almost cinematic score.
Josh Smart's lighting is bold, adding impact to the key moments in the show, sometimes dominating the theatre and Ray Cullen's great video projection is used lightly (I would have liked more of that in other scenes). Jamie Mensforth and Cambell Lawrence's sound design is good, with clear and distinct voices across the cast, and some incredibly realistic effects (I really thought it was raining at the back of the theatre!)
The set, designed by Tuan Tran, is simple yet beautifully versatile through the show. The costumes are amazing - from Glinda and Elphaba's dresses (designed by May Tran) to the ensemble's wardrobe, co-ordinated by Lisa O'Donovan. The colour palettes of the university and Emerald City are effectively used, with the brilliant greens of the latter literally dazzling us.
Wicked is well known for its spectacle and Ray Cullen and Chad Crittle's direction ably steers the cast through its big numbers, but also handles the quieter moments with great sensitivity. They guide us with awareness of emotions, politics, humour and tragedy; indeed, changing us for good.
Mark Wickett