Wicked
Music & Lyrics: Stephen Schwartz. Book: Winnie Holzman. Based on the novel by Gregory Maguire. Director: Madeleine Johns. Musical Director: Sherree Drummond. Redcliffe Musical Theatre. Redcliffe Cultural Centre. 29 July – 14 August, 2016.
As the Wicked community theatre juggernaut rolls out around the country Redcliffe Musical Theatre's Queensland premiere deserves a place near the top. Madeleine Johns' production brought all the excitement of the original including the flying, a glittering and functional set, lavish costumes, and a clear vision of the story. Wicked groupies could not have been happier.
The story of how the two witches, the green-skinned Elphaba and blonde-do-gooder Glinda, meet and become besties is one of musical theatre's most beloved tales of recent times and any production of it hinges on the ability of the two actresses playing the roles. I'm happy to report that Katherine Vacca (Elphaba) and Dani Heraud (Glinda) did not disappoint. From the moment she started singing "The Wizard and I" we knew Vacca had the vocal chops to do the part justice and she continued with knockout performances of "I'm Not That Girl", "No Good Deed" and the ultimate diva showcase "Defying Gravity." Her duets, "As Long As You're Mine" with Fiyero (Jackson Head), "Wonderful" with the Wizard (David O'Keefe), and "For Good" with Heraud were equally as powerful, warm and emotional.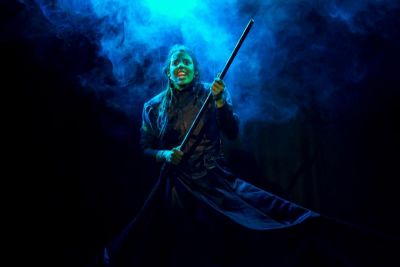 Heraud matched Vacca every step of the way bringing spunk and a sparkling satirical edge to the bimbo-esque Glinda. She pulled the laughs in "Popular", soared with Vacca on "Defying Gravity", and pushed the heartfelt button on "For Good".
Head brought charisma and a toned-body to Fiyero, David O'Keefe was an outstanding Wizard with a voice to match (his "Wonderful" routine was a joyful romp), whilst Danika Saal's Madam Morrible trilled and fussed maliciously. Georgia Murray and Liam J. Kirkpatrick handled the romantic underwritten sub-plot of wheelchair-bound Nessarose and the diminutive Boq, well.
First-time costumer Erickson Ilustre raided the colour-palette with pleasing results, especially the chorus street-wear in the first scene, Andrew Haden's set nodded to the show's iconic industrial machinery look, whilst Bruce Noy was a behind-the-scenes Wiz on technical - lights/sound/audio and flying rig - which except for some audio static toward the end of the first act, worked perfectly.
Co-choreographers Mike Lapot and Clay English made the chorus look good in their ensemble work and devised some appropriately exotic moves for the monkeys. Despite Winnie Holzman's book being saddled with lots of pop-psychology, political symbolism and good versus evil tropes, the piece didn't get bogged down thanks to astute and pacy direction by Johns and spot-on musical direction by Sherree Drummond. It was a classy and enjoyable return to Oz.
Peter Pinne
Photographer: Ben McShea