Wicked
Music and Lyrics by Stephen Schwartz. Book by Winnie Holzman. Based on the novel by Gregory Maguire. Directed by Shaun Rennie. Free-Rain Theatre Company. The Canberra Theatre. 19 – 28 October 2016.
"I can't help it, whenever they hit those long high notes I tear up," said a young woman behind me, pretty much summing up the audience reaction. Free-Rain's Wicked has all the polish and spectacle of the Sydney production at a fraction of the cost. If anything, it benefits from more talent and less annoying cameo. There's plenty of stage magic here courtesy of background projections, theatrical smoke and a glorious lighting design by Phil Goodwin, culminating in the spectacular climax of Defying Gravity. A talented cast full of triple threats is headed up Loren Hunter as a delightful Elphaba, and Laura Murphy, who makes Glinda more adorable than cloying (something I felt that marred the Sydney production).
Seeing as I'm not the intended demographic, I'm handing over to my resident musicals expert, my 17-year-old daughter Zoe.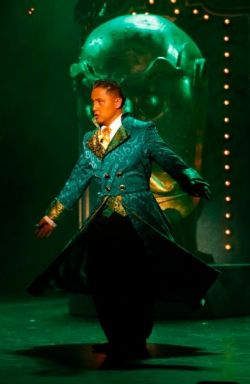 Cathy Bannister
In Wicked, you discover everything you learned in Wizard of Oz is a lie. Without spoilers, the main difference is that the Wicked Witch of the West isn't that wicked and probably isn't of the west either.
You have to be a pretty darn good standard to be able to act and sing Elphaba, and Loren Hunter was excellent. I really liked Glinda's physical comedy. She used over-exaggerated poses like an animated character, particularly in the early sections when she's playing the shallow popular girl before her character develops.
"Defying Gravity" is the iconic climax to the first half. The singing was fantastic, but I think they overdid the fog machine a bit because the cast was a bit lost in it. I don't know whether less smoke would have revealed whatever Elphaba was standing on when she "flew", but there were a couple of points when she just about disappeared in the fog – it's a central point, she's right at the top of the stage and to have her obscured took me out of the moment a bit.
Given that it's Wicked, there's a lot of fog and lasers, and those symbolised the emotion and intensity of each scene. There's plenty of glitter and glamour in Emerald City, and the Wizard's room had lots of green LED lights which gave it a game show feel. I was impressed by the Wizard head which was loud and freaky, exactly what it's meant to be.
That said, the time I found it most striking was when they didn't use all the coloured lighting, which was when Elphaba and Fiyero were in hiding. The understated lighting in this scene helped bring a sense of nervousness and foreboding.
No self-respecting musical lover should miss Wicked!
Zoe Bannister
Images: Steph and Craig Burgess