This Wide Night
By Chloë Moss. Green Light Theatre. The Burrow, Fitzroy. 17 – 28 July 2019
Marie's been out of gaol a while, got herself a job – or says she has – and a one room flat. And then bloody Lorraine shows up. Marie sort of knew she would once she was out, and sort of knew that once Lorraine was back with her, it'd be bloody hard to get rid of her…
This Wide Night is play from Britain, a detailed and fearless character study of two women and their ambiguous, ambivalent, hostile-dependent and symbiotic relationship. It could not be less sentimental. It may not cut as deep or be as scarifying as Patricia Cornelius' portrait of abused underclass women in Shit, but this play is more than convincing in its portrayal of two women whose horizons hardly extend to the end of the street. Where they have come from and why – including even their crimes – is not of much interest to playwright Chloë Moss. What we see is the here and now of two women reduced to rationalising, evasions and each other in a very small space – just like a gaol cell – from which they can escape for a bit but have no alternative but to come back.
Marie (Claire Sara) is younger and seems stronger, better educated and more 'together'. The older Lorraine (Sancia Robinson), a lifer convicted for murder, isn't exactly a mother figure. In gaol, Marie needed the old lag for comfort and protection. But they're not in gaol now. Sadly, Lorraine is a mother, clinging to the hope that the boy she had to give up for adoption before she went inside, will want to see her, want to know her now. She's constantly demanding even while denying she's not. She tries to dominate while pretending she doesn't want to impose, that she has other options, other places to go. Marie sees straight through her, but somehow Lorraine clings on… The circular dead-end feel is almost reminiscent of Beckett.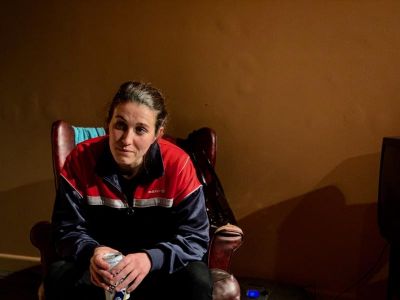 The Burrow is a tiny theatre space, seating maybe thirty people, so the audience is right on top of the actors. In this inescapably intimate setting, and David Shirley's harsh naturalistic lighting (the overhead lights of a cheap flat), there's no escape: the actors are under relentless scrutiny. Ms Sara and Ms Robinson stand up to that scrutiny very well. They maintain their regional accents too. It's a tribute to them and their director Elias Jamieson Brown that we witness one painful confession, one excoriating reveal after another. We care and then we withdraw; we're moved, then shocked. With them we hope that there's something better somewhere, somehow.
The performances of both women are excellent, catching all the ebbs and flows of dependence and of feeling trapped, of need and rejection. In Britain, this play toured women's prisons. Research has shown that incarceration for women, given the crimes most women commit, achieves nothing, but This Wide Night dramatises what's left when these women are 'free'. What satisfaction (or reward) there is for the audience here is in the truth of the characters revealed in performance.
Michael Brindley