Wife After Death
By Eric Chappell. Darlington Theatre Players. Directed by Robert Warner. Marloo Theatre, Greenmount, WA. Nov 13-28, 2020
Wife After Death is a fresh, well-performed comedy performed by Darlington Theatre Players, to Covid capacity audiences. Tight and funny, with high production values, this relatively new show will have broad appeal.
George Boyd has created a very believable, beautifully finished set, nicely creating a sitting room in a country home. Naturalistic lighting design by Michael Hart and a well chosen sound design by George Boyd help set the scene.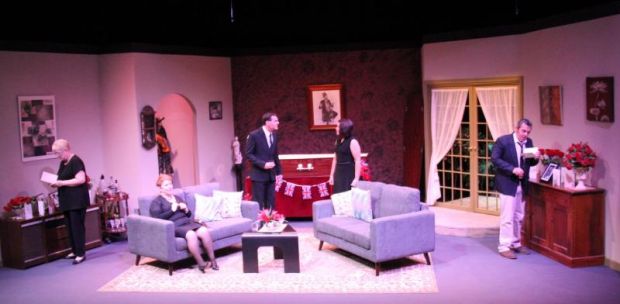 The first act takes place at the funeral of well-known comedian Dave Thursby. We meet his beautifully dressed widow Laura, played with great class by Tracey Morrison. Central characters are Dave's long term writer, and one of his oldest friends Harvey Barrett, played with beautiful comic timing by Richard Hadler, and his wife Vi, given beautiful depth by Jacqui Warner. Dave's agent Kevin Prewitt, given huge energy by Alan Gill, is keen to protect Dave's image, while Kevin's wife Jane (a nicely layered performance from Shelly Miller) is very distressed. An unexpected guest, Kay (given gorgeous gusto by Sandra Sando) reveals some big secrets, and it seems nobody knew Dave as well as they thought. The second act is set shortly before the scattering of Dave's ashes, and even more secrets are spilled.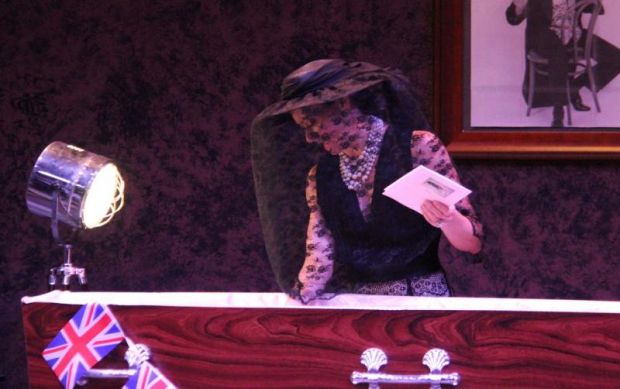 Though essentially a drawing room comedy, this 2011 show has a modern feel, and is well written. This show flows really well, and the ensemble has a lovely camaraderie and works particularly well together.
Despite the rather dark subject matter, this feel-good comedy is an ideal choice for Darlington Theatre Players return to production. The audience are clearly enjoying this well polished and funny show and it deserves its Covid capacity crowds.
Kimberley Shaw