Wild Eagles Fly Alone
Redback Dance Company. Direction: Trent Harlow. Choreography: Jayden Hicks. Chapel off Chapel. Feb 6th and 7th and 16th, 2013
Thanks to me getting the show time wrong on opening night, I had to catch the second performance of this exciting new company. It was well worth the double trip to the wonderfully eclectic Chapel off Chapel.
Trent Harlow and Jayden Hicks have created a beautiful narrative driven contemporary ballet. It's not surprising given that Jayden aspires to be a great storyteller as well as choreographer. The story is as contemporary as the dancing. Five girl friends, in their twenties, go out for an evening of partying and drinking. Tragically one has had a head start and is quite drunk by the time the others join her. In the dynamic and atmospheric opening there is a sense of foreboding when we meet this doomed girl (Kaela Brushett). Through her dancing we realise this is a lost soul who has partied too hard but is empty inside. Tragically she is run over after refusing to listen to her friends. They never have a chance to say goodbye. It's the turning point for the other four, but a pity we don't get to see more of Kaela's dancing.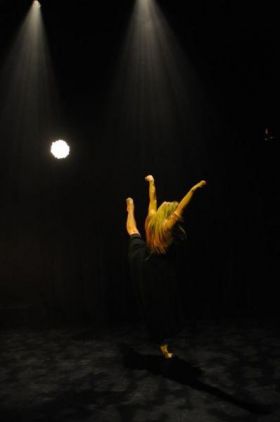 We follow the friends through their return home, then hearing the awful news, then the funeral and the grieving, and finally trying to cement the friendship once again with a key member gone forever. It's a moving story, and the girls use as props the trappings of youth….mobile phones, a Macbook, ridiculously high heels. The trappings only serve to point out the initial hollowness of youth, but are then discarded as the deep emotional truth and reaction take over. The sense of sorrow and loss is palpable as each girl explores her own reaction through dance.
Hicks and Harlow have handpicked their dancers for personality as well as technique. Each one has a solo in which to shine. Hayley Burdon's bodylines in her "platform heels" solo are exquisitely sensual. Kiara Keiser, with the extension of a prima ballerina, performs a wonderfully lithe and artistic floor routine. She is mesmerising and she has the most beautiful and expressive feet. Pru Wilson, a less party motivated member of the group, works with a couch in an astonishingly athletic, almost tomboyish way. It is she, of the remaining friends, who finds it hardest to put the tragedy behind her and get on with life. Last, but by no means least, is the astonishing Eley May. Dressed in black, long blonde hair cascading around her shoulders, her funeral solo is full of strong lines coupled with pain and vulnerability. She is as much actress as dancer and the audience couldn't fail to be moved by the subtle outpouring of grief; stunning work.
This is a classy production for a new company. It's beautifully lit and the music choices are perfect. Especially memorable are the two song tracks. Bat For Lashes (a new Australian band) gives us "Laura" which has the memorable and pertinent line line, "And we will dance on tables again", and Mumford and Sons "The Ghosts That We Knew" provided the resonance for the regrouping of the friends. Hicks, who created the bulk of the choreography, is still only 20 years old and his work is bold and evocative, though not yet as strong as his own dancing. It's a wonderful debut and he and Harlow should be justifiably proud of their first production.
There is one more performance on Feb 16th. Book now – you'll be able to talk about it in years to come.
Coral Drouyn
Photography: Jayde Wilson