The Wild Side
Jonny Woo. Adelaide Fringe. The Attic. Feb 28 – Mar 15, 2020.
Mickey Ruskin, owner and proprietor of Max's Kansas City Bar, New York is quoted as saying "My places have always been my living room and every night I throw a party. But at Max's it went from being just an ordinary little salon and turned into magic!".
America in the 1960s saw human rights movements truly start to mobilise, putting LGBT rights, women's rights and civil rights firmly on the agenda. During this time of growing unrest Max's Kansas City Bar, a precursor to the infamous Studio 54, attracted a melting pot of subversion, talent, art, punk music and experimentation. It became the meeting place, the living room, for an abundance of visual artists as well as a who's who of performing artists such as Janis Joplin, Jim Morrison, Marc Bolan, Iggy Pop, Alice Cooper, David Bowie, Tom Waits and Patti Smith. Andy Warhol and his superstars, including The Velvet Underground, Edie Sedgwick and Candy Darling were regular visitors.
It is Max's Kansas City that sets the scene for Jonny Woo's latest Fringe offering The Wild Side. Before the show opens, Woo, striking in black leather and aviators, and immediately recognisable as Lou Reed, chats idly with audience members. It's a persuasive invitation to suspend disbelief and join the scene at Max's, just for one night.
Woo is joined on stage by a tight three-piece band consisting of Marc Haywood on guitar, Jim Portas on drums and Marion Andrau on bass with back up vocalists Fi McCluskey and Miss Cairo.
This is a cleverly constructed piece of biographical cabaret, evoking a time and place that has almost become the stuff of legend. The show is a journey through Lou Reed's landmark album Transformer and opens with a rousing version of "Vicious". This is closely followed by an all-out fun, sing-a-long, clap-a-long rendition of "Hanging Around", something that we all know cantankerous Reed would have found completely distasteful.
Songs are interspersed with anecdotes from the highly hedonistic, drug-addled days at Max's. We meet Emmylou Harris who worked as a waitress there before her country music career took off, as did Deborah Harry of Blondie fame, apparently. There are anecdotes from Reed's friends Patti Smith, Robert Mapplethorpe, Jim Morrison and Edie Sedgwick.
Stunning Miss Cairo as Candy Darling sings beautifully while performing a tantalising striptease, culminating in some very surprised faces amongst audience members. David Bowie, who produced Reed's Transformer, drops in and prompts a mash-up of Satellite of Love with Space Oddity, both given a frenzied punk treatment.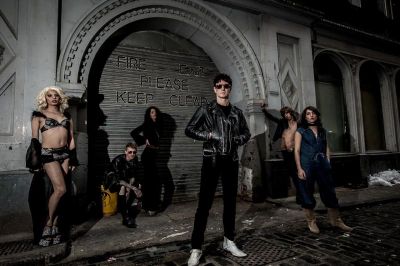 Radical feminist Valerie Salanos (Fi McCluskey) reads from her SCUM manifesto before re-enacting her attempted assassination of Andy Warhol. This time her gun is a banana, a clever reference to Warhol's artwork for The Velvet Underground's first album.
"Take a Walk on the Wild Side" is immediately recognisable, even if only as an advertising jingle these days. Woo and the band take us on a "Wild Side" journey and give us the back story behind the song. Miss Cairo acts out the lines about Candy Darling, giving us no doubt what nights at Max's were like.
The night culminates too soon with Woo, ethereal in white, giving us "Perfect Day" and aptly, "Good Night Ladies".
The Wild Side is a sexually charged escapade through a pivotal album and the antics of a legendary generation, by Britain's chameleon of the stage, Jonny Woo. Sadly, it's hard to believe that Lou Reed would approve of this kind tribute but that didn't stop the audience from lapping it up.
Jenny Fewster