The Winlsow Boy
By Terence Rattigan. Castle Hill Players. Directed by Jennifer Willison. The Pavilion Theatre Castle Hill. June 1st – 23rd, 2018.
Written in 1946, The Winslow Boy is based on the 1910 court case in which Martin Arthur-Shee employed the highly respected barrister Sir Edward Carson, to defend his son who was accused of stealing a postal order from a fellow student at Osborne Naval Academy. The boy was found to be innocent, but the case "caused an uproar" and was widely followed by the press of the time.
In his play, Terence Rattigan paints a vignette of life and issues in Edwardian England.War is looming. Emily Pankhurst and her suffragettes are demonstrating for the right to vote. Though society is changing a little, it is still restrained by some Victorian customs and etiquette. Ronnie Winslow, a fourteen-year-old naval old cadet accused of stealing a five-shilling postal order, has been 'sent down' from Osborne. The family, staunchly believing in Ronnie's innocence, begins a complicated and expensive effort to clear his name.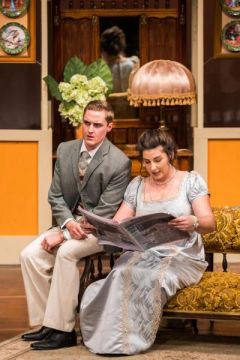 Ronnie's father Arthur is a retired banker, his wife, Grace, a devoted wife and understanding mother. Catherine, their daughter, is a suffragette. Their elder son, Dickie, is an Oxford student. Though the family is reasonably well off, they are by no means wealthy. The court case will stretch their budget – and affect their social standing should it fail.
Jennifer Willison has staged the play on a set that captures the authenticity of the time, yet pays homage to more contemporary ideas and skills in set construction. While the Winslow sitting room pays accurate homage to the accoutrements of the time, it is not the normal 'box set' that one expects. Instead, it 'pays homage' itself to the imagination of the designer – and the ingenuity of the creative team who brought her vision to life. Steve Wimmer (set construction) and Sean Churchward (lighting) did so handsomely.
Fourteen-year-old Brayden Sim plays Ronnie Winslow. Tremulous about facing his family, but tenacious in declaring his innocence, Sim is particularly convincing as he faces interrogation by Sir Robert Morton, K.C., the barrister his family have retained to defend him. Paul Sztelma is elegant as Sir Robert. He wears the formal garb of the time stylishly, moves gracefully on the stage, and the barrister he portrays is perceptive, intuitive and just a little equivocal.
Christopher Clark, coming late to the role of Arthur Winslow, finds the anguish of a father determined to support his son despite the spiraling financial and social cost – and the deleterious effect on his health. Brooke Davidson, as Grace, sweeps from one family member to another, dispensing encouragement and support in clearly enunciated kindness.
Catherine Winslow is Rattigan's tribute to early feminism, and Melanie Ham embraces the spirit of the character with sincerity and intelligence. She is compassionate and caring of her family, distrustful but admiring of Sir Robert – and always true to herself.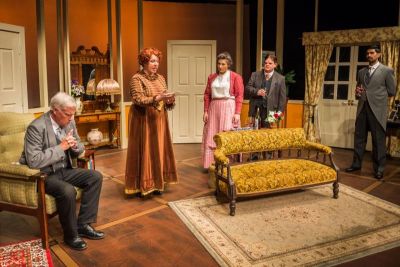 Blake Eaton, as her brother Dickie, is similarly sincere, but playfully so, his manner and delivery bringing a little humour to the production. He wears the more trendy men's fashions of the time with style, and his demonstration of the 'Bunny Hop' with Catherine brings some brightness to the more serious scenes in the first act – as do the appearances Anthea Brown as the kindly, unsubtle housemaid, Violet.
Sid Garde is Catherine's very class-conscious fiancé, John Waterson, and Alan Long is solicitously caring as her long-time, faithful admirer, Desmond Curry. Kate Foote plays the female journalist, Miss Barnes, and Charlotte Woodford makes a brief appearance as her press photographer.
Willison has put much thought and time into making this play a product of both the past and the present. Under her direction, the characters speak their messages of truth, justice and compassion in the style and language of a time past, but with the conviction and understanding of a more cognizant world.
Carol Wimmer
Photographer: Chris Lundie