The Winter's Tale
By William Shakespeare. Presented as part of Asia Topia. Directed by Bob Pavlich. La Mama Courthouse 349 Drummond Street Carlton. 4-8 March, 2020.
This is an interesting and accomplished co-production between Hong Kong Shax Theatre Group and La Trobe Student Theatre that explores the plays themes well.
The first half of the production is set in 1920s Hong Kong while the second half is set in beachside Australia in the 1970s. This choice in staging also reflects the cultural diversity which characterises the collaboration on the project. Even though the distance in historical period between the two parts is much greater than that suggested in the script, the transition and the contrast of the two very different historical and geographical locations works well. The story of a King Leontes (Kevin Lorenzo Erodias De Guzman), whose kingdom becomes consumed by his unfounded suspicion and jealousy of his wife, is nicely housed in these unusual settings. The Hong Kong location highlights the drama while the Australian location helps to emphasise the humour.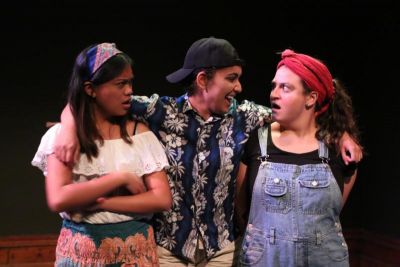 The characters are portrayed with intensity and the lines delivered with passion and a deep understanding of the emotional journey of the characters. The performers took some time to develop a rhythm in their delivery and the second part is clearly has more vibrancy. The minimal set and the stylish costumes add a very clean and simple tone but evokes the settings in an extremely effective manner. Karen Wang is well cast as the Hermoine and Monica Wat Tsz Yan is perfect as Perdita. Paul Doogood as the Shepherd provides a great animated performance which helped to lift the pace and Evangeline Oster as Paulina sets the tone for the dramatic elements of the story. Lakshmi Ganapathy as the clown shows great comic timing and also adds to the vibrancy of the second part of the show. This is a well-conceived and studied production which reflects well on the key themes of the text.
Patricia Di Risio
Photographer: Melissa Viola