Wish I'd Said That
Written and Performed by Henri Szeps. Ensemble Theatre. Until January 29, 2011.
Henri Szeps would make a fabulous dinner party guest.
Erudite, witty, bright as a button with a sharp memory, you could imagine him holding court into the wee hours. For that reason alone Wish I'd Said That is a thoroughly enjoyable night of theatre.
He covers territory and musings ranging from an excerpt of King Lear's speech to his three daughters, pearls of wisdom about science, sprinkled with jokes including my favourite, about a Jewish man with a stutter auditioning for a job as a newsreader.
He sings show tunes and doesn't miss a beat.
Unfortunately the justification for this delightful monologue didn't quite satisfy me. The premise is that Joe Bleakley, a failed actor, is now in a retirement home where he tries to entertain the inmates with speeches of great roles he has never played.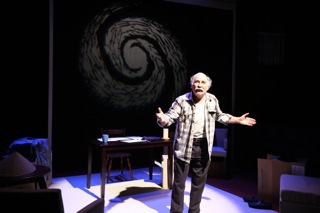 Henri Szeps explains this to the audience right at the beginning, rather than letting us work it out. There is no suspense about who might turn up.
We in the audience never feel as though we are 'inmates' in a retirement village, which could have been great fodder for humour.
The regrets of the actor as he looks back on his life, which relate to his family relationships, appear contrived.
We don't learn much about the career of Joe Bleakley and the trials of being a failed actor.
It needs a bit more work to make the narrative match the sparkle of the performer.
David Spicer
Photos: Henri Szeps (Photographer: Natalie Boog).