The Witch and the Goat
Written and directed by Bello Benischauer. Art in Process and Existence Theatre. Fringe World. Old Customs House, Fremantle, WA. Jan 15-30, 2021
The Witch and the Goat is a mesmerising, impactful and highly emotional piece of physical theatre, presented by Art in Process and Existence Theatre at Old Customs House, Fremantle as part of Fringe World.
Presented as an allegorical fairy tale, The Witch and the Goat is beautifully told. Highly physical shared story-telling is used to present this story which is a multi-layered exploration of suffering, intergenerational trauma, destiny and the difficulties of moving outside inherited patterns. Despite the dark themes it is ultimately an uplifting and hopeful production.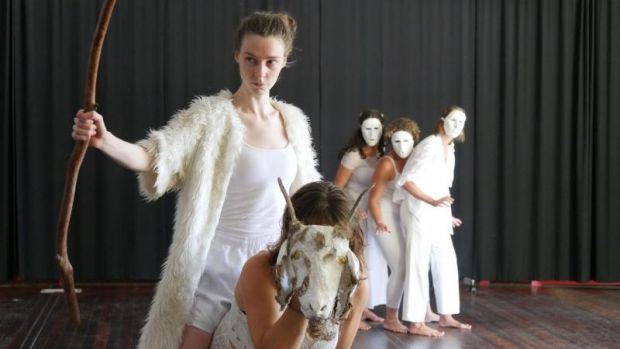 Visually spectacular, the actors move across a generous white space, on to which are projected amazing moving images created by writer/director Bello Benischauer. Lit almost entirely by the projections, the images land on the performers' white costumes and the room's columns, merging the actors with the environment and creating a dream-world. An encompassing soundscape (also by Bello Benischauer) merges with dialogue to create a complete experience.
Six very talented female performers share the stage, interacting with each other and the audience, sharing characters and narration. Existence Theatre's founder performs with passion alongside the wonderful 9 year-old Emma Benischauer, exquisite dancer Gala Shevstov, Sarah Healy, Helah Milroy and Joey Valency - all highly focused, dedicated performers.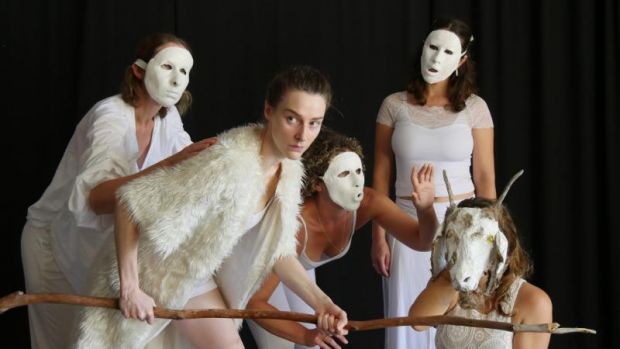 The use of Customs House is an excellent choice. Apart from being a gorgeous venue, this building has a spiritual feel that while not maleficent, adds to the feeling of awe and wonder. The company though is welcoming, and the audience are invited to join the company for vegan soup after the show.
An experience rather than conventional theatre, The Witch and the Goat is a production that moves and inspires the audience.
Kimberley Shaw