The Wizard of Aus
By Bella Alexander, Noemi Finaldi and Charlie Macgregor. UWA Pantomime Society. Directed by Elizabeth Hamilton and Isaac Whiteside. The Dolphin Theatre, University of Western Australia, Nedlands, WA. May 19-21, 2022
The Wizard of Aus is an original pantomime presented by UWA's Pantomime Society. Playing for a very short season at the Dolphin Theatre, it is very loosely based on the L. Frank Baum story and is aimed at an adult audience.
Like most productions at the moment there have been some cast changes, with one performer hospitalised very shortly before opening and another, actor and writer Bella Alexander, succumbing to Covid at the last minute - her roles nicely covered by other cast members.
In this version of the story, British tourist Dorothy, en route to Australia, finds herself stranded in the Aussie Bush. There are some fun changes to the story, including following a red, dirt road and battling the Wicked Witch of the West Coast Eagles. The humour is very much in the style of a university revue, and the language is very adult - and while the presentation is a little rough around the edges, it was clear that the audience was having a great time. A little under-attended on opening night, a bigger audience would help this production to soar.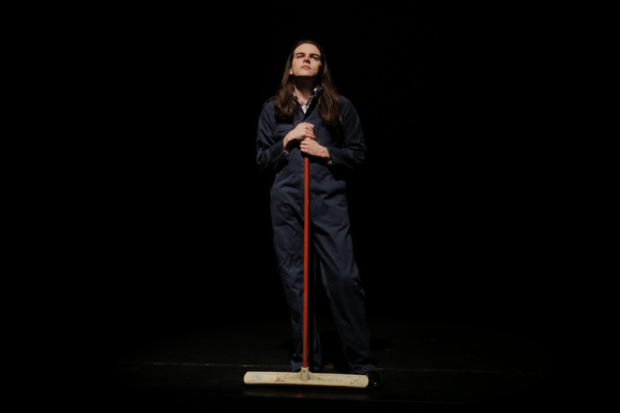 Sarah-Beth Aldridge plays the central role of Dorothy, with beautiful British pluckiness and a lovely voice. I would love to see her in "conventional pantomime" as she would make a beautifully animated principal girl.
Her travelling companions were a drought-stricken farmer, laconically played by Liam McKay, a can of beer called Tinny Man, played by director Elizabeth Hamilton, taking over the role at the last minute and playing it very well, and a grumpy koala who dreams of being a Drop Bear - adorably played by Lucy Pearce. The final member of the party is a quokka called Todo, manipulated by Thomas McGregor - whose scene stealing is a show highlight.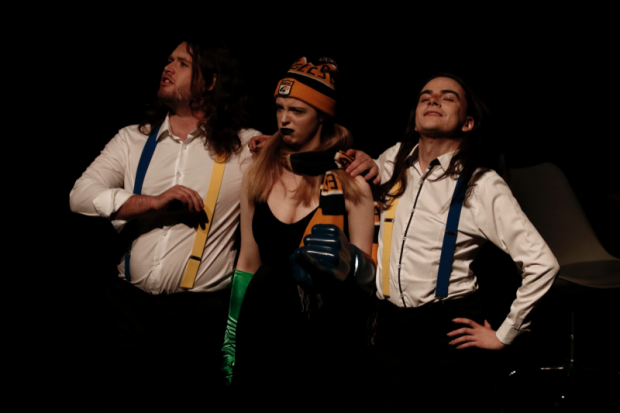 We have a pair of great witches - Kelly Salathiel is Glenda, stepping out with attitude from the Golden Triangle, while Clare Boon's Eagles Inspired Wicked Witch is good fun. Jamie McGregor plays the title role, with great authority. New character Nathan's recurring appearances are a great "Panto moment" with comic chops from Aaron Hamilton.
There are a myriad of delightfully odd characters, with most actors playing multiple roles (in many cases at short notice). The cast is completed by Francis Adrian, Noemi Finaldi, Axell Pyvis and Isaac Whiteside.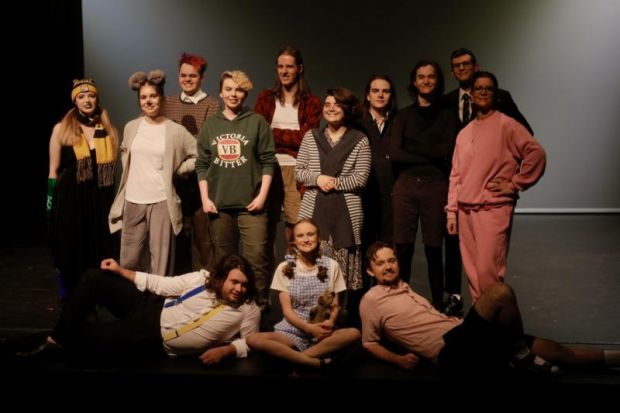 Lighting is nicely designed by Gabby Ward, with sound well managed by Ben Quick. There is very little music for a pantomime (and that is somewhat of a running joke), but Guinevere Sellner has nicely directed what we do hear.
In a week where this reviewer will review two productions of "The Wizard", PantoSoc's The Wizard of Aus was a fun departure from the expected, in a fun, easy to watch production.
Kimberley Shaw