The Wizard of Oz
By L Frank Baum. Music and Lyrics by Harold Arlen and E. Y. Harburg. Incidental music by Herbert Stothart. Adapted by John Kane for the Royal Shakespeare Company. Packemin Productions. Director: Neil Gooding. Musical Director: Peter Hayward. Choreographer: Camilla Jakimowicz. Riverside Theatres Parramatta. February 8 – 23, 2013.
Indelibly etched on the hearts and memories of generation after generation thanks to the Hollywood classic, a theatre production of The Wizard of Oz, more than most other musicals, only succeeds as this one undoubtedly does by satisfying the preconceptions and emotional memories with which audience members enter the theatre.
It's in our cultural DNA.
Judy Garland's Over the Rainbow is a cultural icon, and hasn't every child (and inner child) skipped down their own yellow-brick road, arm-in-arm with Scarecrow, Tinman, Cowardly Lion and Dorothy.
Four professional performers bring those beloved central roles to joyous life, leading the large and capable pro-am cast of Packemin's production at Parramatta's Riverside Theatre.
Laura Murphy (TV's Sparkles the Fairy) is vulnerable and feisty by turns as Dorothy, in a warm, engaging performance, nailing 'Over the Rainbow' emotionally and vocally. Jimmy Rees (Giggle & Hoot) physicalises the gangly Scarecrow delightfully. The tightly constrained, precisely detailed physicality which Luke Joslin brings to the Tinman, as each joint is oiled, is joyously spot on. The real crowd-pleaser in this quartet, though, is Adam Scicluna's teddy-bearish Cowardly Lion; a sympathetic, broadly comic take on the role, with added gags, especially a reference to The Lion King, providing the final touch. The sparkling rapport between this quartet gives the show its essential chemistry.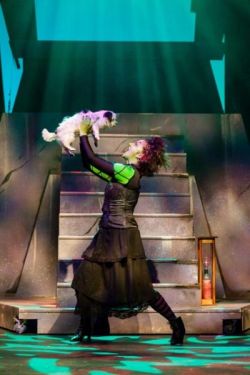 Before Dorothy heads off on the yellow brick road, the kids get their turn.
As the Munchkins appear, vivid eye-catching costume choices impact first, then the exuberance and enthusiasm of the well-drilled little army of the kids' ensemble (some 150 children from local schools), thoroughly enjoying themselves, swings into action to welcome Dorothy. Delightful!
While the starring professionals impress, others also shine, most notably Zoe Tidemann as a particularly villainous Wicked Witch / Miss Gultch, complete with chilling cackles, and Simon Ward, whose doubling as The Wizard and Professor Marvel is convincing and credible. Ian Johnson and Jan Mahoney are sympathetic as Uncle Henry and Aunt Em, and Elizabeth Smith is a caring, gentle Glinda.
Miss Suzie, as Toto, though, seems somewhat overawed by the occasion.
Specialty dancing as poppies and crows aside, the bulk of the adults must wait until the second act to appear, when as citizens of the Emerald City, then as the Wicked Witch's lackeys, flunkies and sprites, they are strong, committed and focused in their limited opportunities.
The Wizard of Oz score is very slim on songs as musicals go, but perhaps this is a plus, not a minus. While I wish some of the performers, and the ensemble, had more chances to sing, unlike other film adaptations this stage version isn't padded out with irrelevant, sometimes mediocre material. It is comfortingly close to the original source.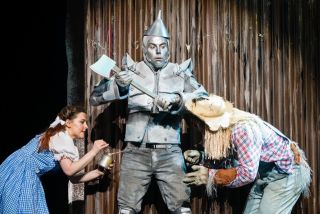 It's no surprise that this stage version can't replicate the screen classic in purely scenic and technical terms. The film had a $2 million budget – massive for the time. A small yellow brick ramp to one side of the stage barely hints at the fabled yellow brick road (much more impressive on the poster and program cover), while Wicked, Mary Poppins and Chitty Chitty Bang Bang have well and truly spoilt me as far as theatrical flying is concerned. I'd imagine that productions will soon utilise LED technology to enhance these effects, as well as the storm.
Musically the production is a triumph. Peter Hayward leads an outstanding pit orchestra, creating a lavish sound which does full justice to the classic score of songs and the extensive underscoring, complementing the performances.
Packemin's The Wizard of Oz clearly delighted a packed opening night house of all ages.
Neil Litchfield
Photographer: Grant Leslie.