The Wizard of Oz in Concert
Script: L. Frank Baum. Music & Lyrics: Harold Arlen & E.Y. Harburg. Background music: Herbert Stothart,. Orchestration: Larry Wilcox. Adapted by John Kane for the Royal Shakespeare Company. Presented by Prospero Arts and QPAC. QPAC Concert Hall, Brisbane. 30th June - 2nd July, 2023
QPAC's Concert Hall has almost been transformed into a theatre with this visually stunning concert version of RSC's adaptation of the famous movie. With elevated platforms surrounding Camerata - Queensland's Chamber Orchestra centre of stage, a large video screen providing a well-designed backdrop, a complex lighting plot, colourful costumes and a small ensemble cast, tribute must be paid here for how effective the use of minimalism can still whisk you away into the world of Dorothy and her journey down the yellow brick road. The producers and creative team have pulled out just about every stop, with some delightful visual tongue-in-cheek additions (even the orchestra has mini 'costume-changes' throughout the performance), attention to detail and by creating the right setting to not only enhance the central core of this presentation, the musical score, but also bring the acclaimed story to life.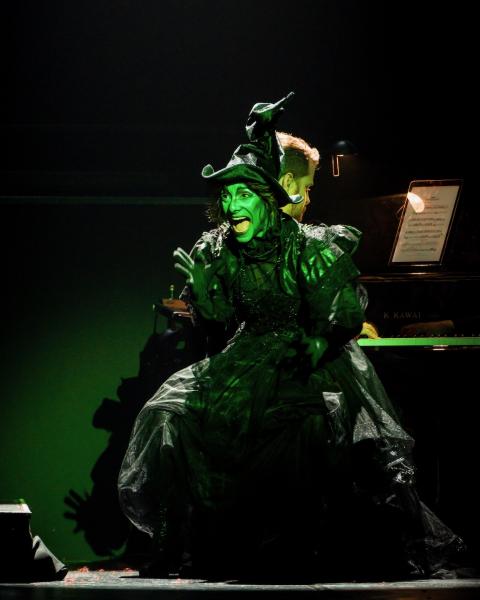 Background music in movies often goes unappreciated due to the distractions on the screen: take it away and you notice the difference immediately. This once came to light for me when I viewed a documentary demonstrating various famous scenes 'with' and 'without' the music and I was quite astonished by the difference, so viewing this concert version, in fact any concert with film and theatre music being at the forefront, can be just as educational as entertaining, particularly for those who don't work in or appreciate the industry.
The Camarata Orchestra, under the concise direction of Andrew Worboys in this production, is smaller than the original used in the movie and other versions, and one does notice the difference, but the outcome is well enhanced by the rich orchestration and superb acoustics of the concert hall.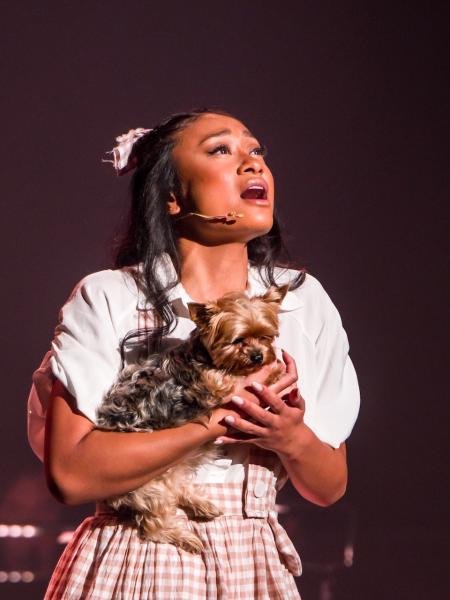 One of the highlights of this story is the diversity of colourful characters and having recently viewed a community production of the same adaptation, it became even more apparent to me the importance of the subject of interpretation. Euan Fistrovic Doidge's performance of the Scarecrow with his somewhat 'R2-D2 campy' characterization, in a delightfully animated and humorous performance, Mark Hill as a terrific very 'straight' Tin Man and Monique Sallé as a female version of the Cowardly Lion (having feminists 'roaring' with delight no doubt) is a good example, providing plenty of variety and opportunity to explore depth-of-character. Angelique Cassimatis's performance of the Wicked Witch of the West is one of the best I've ever seen while Elandrah Eramiha well-captured the sweetness and innocence of Dorothy in a polished and musical performance, as with Loren Hunter as Glinda/Aunt Em. Additionally, perfect pooches Peggotty and McGinty, sharing the role of Toto, soon wowed the audience, being both surprisingly well-mannered considering all the frenzied activity going on around them.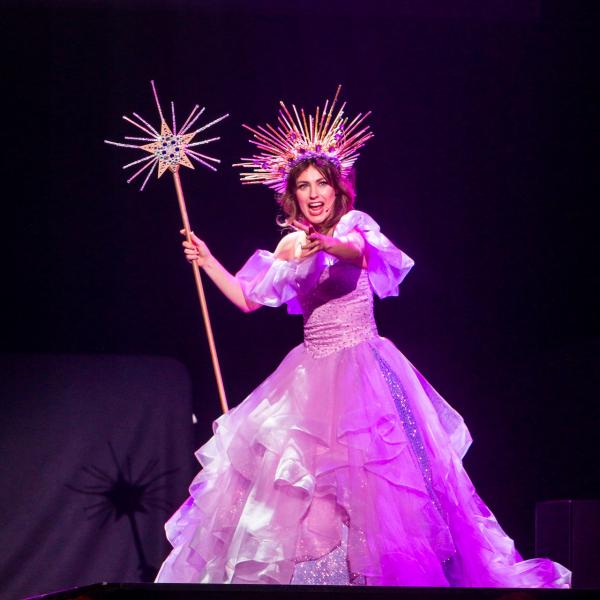 Casting Indigenous Australian Michael Tuahine as the Wizard of Oz/Professor Marvel is a great choice, keeping in mind the current political climate too, and though his robust, somewhat Shakespearian and charismatic presence is noticeable, perhaps a little more direction could have made his character and performance more enigmatic. Additionally, though Tim McCallum's performance of Uncle Henry is very convincing, his characterization of the Ozian Guard lacked comedic scope, comparing it to some hilarious interpretations I've viewed in the past.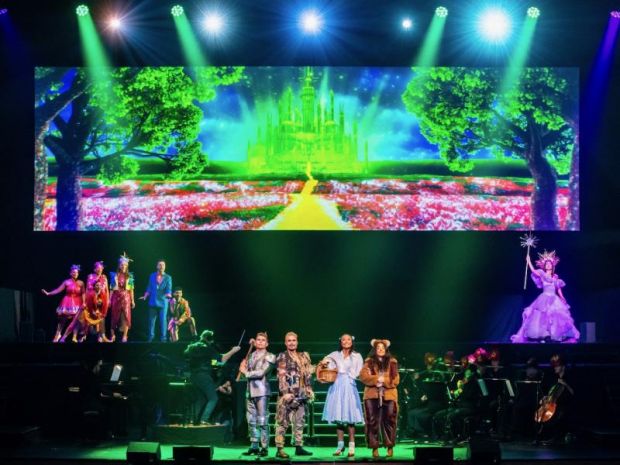 With fine performances from the ensemble cast in general, effective choreography, staging and tight direction and keeping in mind this is not in a traditional theatre setting as such, Director and Choreographer Amy Campbell has brought the production together in a very satisfying and professional manner.
Not always knowing what to expect with a concert version of a musical, and being a musician myself, it was pleasing to see the orchestra centre-stage, demonstrating the significance and power of music; however, the surrounding technical show-off: the sound, lighting, costumes and effective staging and gimmickry brought this famous story to life in a version quite unlike one sees very often. I came out of the venue still humming all those famous tunes in true musical theatre style, feeling thoroughly entertained and generally elated.
With wizards and witches continuing to be in vogue, it's not surprising the popularity of this famous story and movie hasn't waned and I'm sure it will continue to delight audiences well into the future, broomsticks et al!
Brian Adamson
Photographer: Darren Thomas