Wogs in Love
Director: Jane Oliffe. Writer: Greg Andreas. 4 Stage Productions. Judith Wright Centre. 6-14 July 2017.
There are hundreds of wonderful scripts in this world so it seems an odd choice for 4 Stage Productions to follow successful seasons of The Breakfast Club and The Vagina Monologues with Wogs in Love. It was the first play written by Greg Andreas in the early 80s. He confesses in the program's 'Writers Note' that this play is '36 years old and somewhat dated'. Many of the cast and crew seem to have lost the uphill battle to give meaning to a script that is so entrenched in the time in which it was written that its appeal is waning.
It's unfortunate because one really wants to enjoy and support the work of local production companies who make an effort to employ locally. My guest bemoaned as we left the theatre, "I was trying really hard to laugh because I wanted to support the actors" and I felt the same. Wogs in Love bills itself as Romeo and Juliet meets My Big Fat Greek Wedding. It seemed like director Jane Oliffe couldn't decide if she was making a tragedy or a comedy. The show wasn't making us laugh enough for comedy and wasn't making us care enough to be tragedy.
It's not an unredeemable work. In the hands of a great director and with the help of a dramaturge this rough diamond could shine again. To sum it up briefly, some of the acting was good but the play lacked a clear vision, it felt unfinished, dated and deficient in meaning in a modern context.
Specifically speaking, of the cast, the best work was by Colin Smith as the Greek Father Nico. He really carried the play. His work was motivated and believable, with perfect facial expressions. His dialogue delivery had beautiful phrasing and showed sensitive insight into his character. Tony Nixon was also convincing and had nice comic timing in his small role as the Australian Father. Richard Lund played George with a sweet and awkward manner that suited his character's past and present.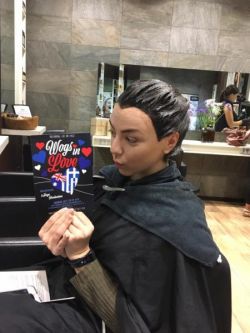 Sadly, it was harder to believe Melanie Bolovan as Anna, William Toft's David or Carl Figueiredo as Costa. Though they were clearly trying very hard to do their best and all of them had some nice moments, they struggled at times to bring their words to life beyond sounding like recitation. Both lads suffered from breath control issues. Melanie didn't deviate much from speaking in her higher register, which did little to support her character's strength and became unpleasant to the ear.
There were prolonged periods from these three where dialogue was directed at the audience as a drama student might do when performing in monologue. These were not scripted and directed as asides, they were in conversation with other characters on stage, but not connecting with them. Perhaps it was this lack of connection between three of the main protagonists that led us to feel disconnected, lacking a reason to care about the characters.
The staging was sometimes problematic; split focus and physical blocking of some moments led the person who should have been the focus to go unseen by the audience.
Lighting by Lauren Sallaway was utilitarian and unobtrusive. Some of the scene changes could be tightened up, but I heard on the grapevine there were technical difficulties on the night I attended, so that would account for the slower transitions. Set design by Steve Beeston was period and character appropriate, if a little sparse. It would be great to see the empty refrigerator and cupboards stacked with food, as little omissions like that trigger one's cognitive dissonance and become an unwelcome distraction. Renee O'Connor did a decent job of ageing Colin Smith (Greek Father) and Johancee Theron (Greek Grandmother) with make-up.
The themes in the play – racism, assimilation, arranged marriage – are all still relevant today, so it is a shame Wogs in Love didn't quite connect with us in a meaningful way.
Kiesten McCauley