Wondered
Written, Produced and Directed by Elodie Boal. Presented by Mira Ball Productions and Trent Sellars. The Sideshow. 10 - 17 May, 2019
The Mad Hatter's tea party gets a gothic horror twist in the delightfully dark Wondered. Appearing at the back of a hyper-hip café in Brisbane's West End for the Anywhere Theatre Festival, this creatively twisted tale is certainly no children's story. The Mad Hatter is more like a psychotic hatter, putting Alice, the Cheshire Cat and the Tweedles in terribly hot tea indeed.
The set design is chaotic and creative, with little nods to Lewis Carroll's original tales among the trinkets and tea things. Costuming for Alice, the Hatter, and Dee and Dum is true to the familiar characters, but with a gothic flavour. The only character that's a challenge to identify is Ches – the Cheshire Cat (Lindi Milbourne) - who neither looks, nor particularly acts cat like. Missing too is the slightly warm, slightly unhinged smile one expects to see on this character.
Alice (Elodie Boal) is suitably saccharin and wide-eyed. Boal's controlled, enunciated performance is a good counterpoint to the madness of the other characters. Reagan Warner's Hatter snaps between Victorian era gentleman and screaming psycho'. He makes great use of levels and delivers some nicely unexpected physicality. Dee (Gary Farmer-Trickett) and Dum (Trent Sellars) show great teamwork and commitment to character. They relish their roles with a palpable joy and maintain a professional standard of technique.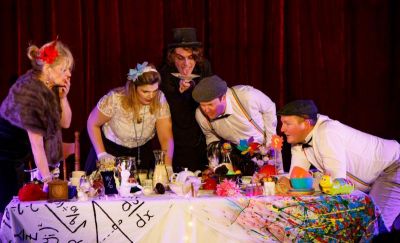 The whole tale appears to be a clever metaphor for the experiences of a passionate writer/producer/director, with the Hatter representing that person. His journey mirrors that of an isolated, visionary auteur. He goes to such efforts to prepare for a tea party (a play). Nobody ever cares about it as much as he does. He works so hard to have everything run perfectly but his visions of perfection aren't ever truly realised. People keep messing things up. Some people can't even be bothered to show up when they say they will. After they're gone, the voices of the characters the Hatter's killed off are still with him – just as the voices of characters one creates are always present well after the curtains close on the final show.
The narrative makes a smooth and steady transition from the zany world where Alice's Adventures in Wonderland left off, to a dark, dead-body-strewn stage after the Hatter's killing spree. The narrative does continue past the climax, which confuses the audience into prematurely applauding the cast and crew.
If you're the sort of person who likes Poe's The Raven more than Shelley's To a Skylark, then Wondered is likely to be your delicious cup of tea. You're not late for an important date; there's still time to catch it in the Anywhere Theatre Festival in Brisbane until May 17.
Kiesten McCauley
Photographers: Alison Telfer-McDonald and Creative Futures Photography.