Wonnangatta
By Angus Cerini. Sydney Theatre Company. Roslyn Packer Theatre. Sep 21 – Oct 31, 2020
Angus Cerini's bush ballad is set high in the brutal beauty of Victoria's alpine country; it's a Gothic murder thriller told by two cattlemen in search of the bodies.
And it's true. The murder of Wonnangatta Station manager Jim Barclay and then his cook and station hand John Bamford in 1918 has never been solved.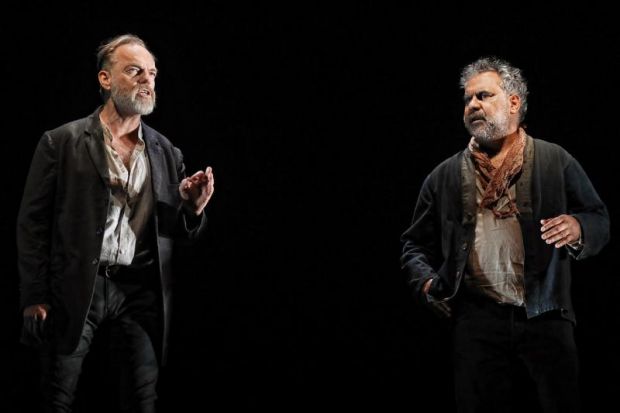 For Jim's mate, Harry, it's an evangelical quest, and Hugo Weaving is superbly obsessive, big chested and with voice both commanding and melodic. Wayne Blair as his offsider Riggall is perfectly matched as the contrasting quieter voice of doubt and moral caution, an everyman. There's no backstory to what brings them together, both actors are more narrators directly addressing us more than each other, alternating and compounding their words in quick rhythm, and with just enough gestures to suggest new places and drama. Together their words beautifully evoke the fearfully inhospitable bush and cold which surrounds then, as they stand, often still, on Jacob Nash's austere sweep of suspended slats. And then the bush yields up its bloody corpses.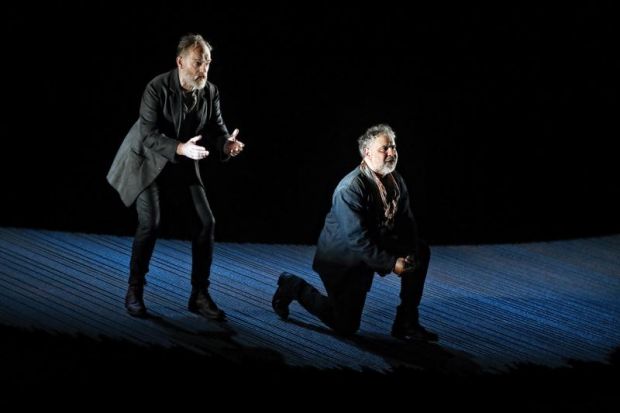 Nick Shlieper's lights etch out their two faces more than the spaces they prowl or search. And Stefan Gregory's bushscape sounds are thrilling. With the actors initially so static, we remember those other travellers in Waiting for Godot (meets Man from Snowy River!), but director Jessica Arthur masterfully builds select movements to lift this ballad beyond performance poetry. Carried by such actors, Cerini's poetic play is haunting and compelling – and well matched by a booked out theatre using, with COVID distancing, just a fraction of its capacity.
Martin Portus
Photographer: Prudence Upton