Into The Woods
Music and lyrics by Stephen Sondheim. Book by James Lapine. Rockdale Musical Society. Rockdale Town Hall. February 27 – March 8, 2015.
On a stage devoid of painted scenery, lit only by the spill of house lights from auditorium, with no front-of-house curtain, I vaguely make out a collection of props, mostly found objects (I can definitely see milk crates) which will create the world of this Into The Woods as I enter the theatre. Centre stage there's a ladder, an artist's easel with a canvas facing away from us, and a huge empty cable spool. Black clad figures hover; ostensibly stage hands, soon they'll be revealed as much more in Kenney Ogilvie's imaginative staging of Into The Woods, Stephen Sondeim and James Lapine's wonderful musical mash-up of favourite fairy tales.
I'm about to see what I like best in community theatre, where a creative simple interpretation, especially with the lavish Disney film so fresh in most of our minds, is clearly the smartest choice. There will be no scenery, and that selection of props across the back of the stage will signify the locations, and some of the creatures, we will meet in the fairy tale world of act one. In act two a row of chairs across the back of the stage, and even fewer props, are the only indicators of a world in chaos. Shadow puppetry and the pre-recorded voice of musical theatre legend Nancye Hayes evoke the giantess.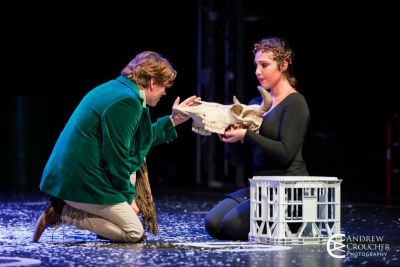 As the lights go up, there's the figures of a clock face painted on the floor. Soon they'll become the ordered circular path which the production, and Emma O'Brien's clean, effective choreography, will follow, before it becomes a reminder of the loss of that kind of order in act two.
There particularly fine performances in this Into The Woods.
Michele Lansdown is a deliciously archetypal witch, before transforming gorgeously. She navigates the challenging gauntlet Sondheim throws down for divas taking on this role splendidly. Rebecca MacCallion is a delightful Cinderella, singing beautifully and nailing the role with a lovely mix of charm, sweetness and determination. Meg Day's Little Red Riding Hood is a knowing, cheeky interpretation. A warm, engaging Baker's Wife, Bridget Keating's 'Moments in the Woods' is one of the evening's highlights. Margaret Short makes Jack's mother a wonderful no-nonsense, bustling, warm characterization. This strong line-up of female principals display wonderful projection and diction throughout, doing splendid justice to music, lyrics and dialogue.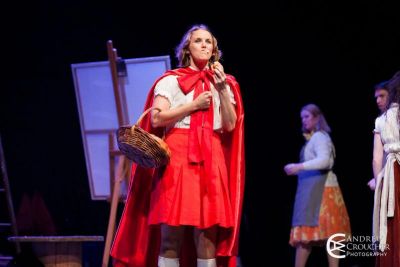 As Rapunzel, Rebecca Carter didn't have to worry about words, but her notes, and her screams, are top notch. As her prince, Gareth Davis gives a confident high-camp performance, though it leaves me in doubt that he would ever climb a tower for the love of a woman.
The vital role of the narrator becomes an introspective artist and observer in this production, and Julian Badman's storytelling becomes somewhat indistinct at times. He must be more aware of narrating the tale distinctly to the audience. I'm not sure if there were second night issues for some of the male cast, who, by comparison with the women, rushed dialogue, and lacked clarity of diction and projection.
As The Baker, Mal Tuck displays a particularly attractive voice. If he, Julian Badman and Ethan Harvey (Jack) can lift their projection and diction, it will strengthen and add credibility to their characters, making the overall production just that much more balanced and satisfying. Experienced performer Malcolm Gregory (Mysterious Man) provides an excellent stagecraft model for them.
James Jonathon acts the roles of the Wolf and Cinderella's Prince with panache and confidence, projecting well, though occasionally he slips under the note.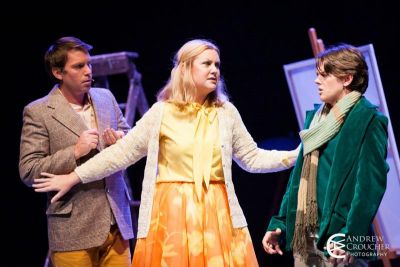 The supporting cast display focus and commitment, with a special word of praise for those black clad figures I mentioned earlier. Dancers Ashleigh Colella, Tegan Millington and Joseph Nalty portrayed Cinderella's bird friends, Jack's cow Milky White and various other roles, threading through the action throughout the evening.
David Lang leads an excellent orchestra impressively, and when singers were sharing the load with good diction and projection, the sound balance by Loud and Clear Audio and Drew Bissett was excellent.
While there are moments where the use of props doesn't quite work for me, notably the representation of Milky White, the beanstalk is a delightfully simple little piece of magic.
Catch this original, creative vision of Into The Woods on its final weekend.
Neil Litchfield
Images: Andrew Croucher Photography